Joe Biden Says Catholic Faith, Rituals Helped Him Through Death of Son; Unsure of Presidential Run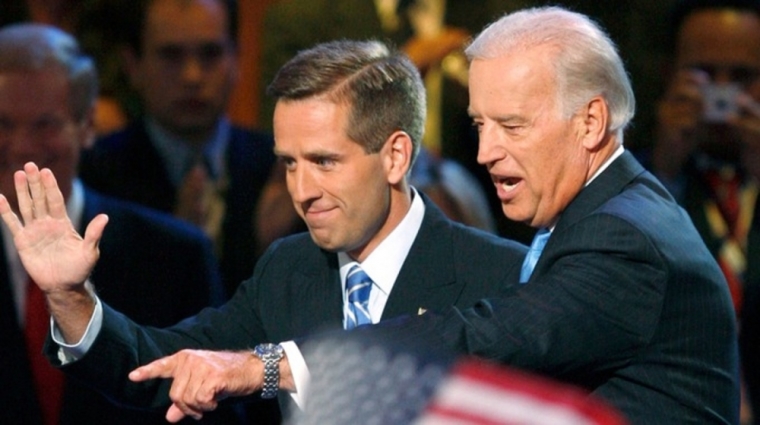 Vice President Joe Biden told Stephen Colbert on "The Late Show" on Thursday that his Roman Catholic faith and its rituals have helped him deal with some of the biggest tragedies in his life, such as losing his son, Beau, to brain cancer earlier this year. Biden also admitted that he's still not sure if he will run for president in the 2016 elections.
"My son was better than me. He was better than me in every way," Biden said about Beau. The vice president remembered his own father's saying, "Never complain and never explain," and added: "I never once, my word as a Biden, never ever heard my child complain."
Joseph "Beau" Biden III, who was a former attorney general of Delaware, died in May at the age of 46, following a battle with brain cancer. Biden was also an Iraq War veteran, a major in the Delaware National Guard, and the recipient of the Bronze Star.
The vice president said that his Catholic faith was central in getting him through the tragedy, and talked about the "enormous sense of solace" that Catholic rituals give him. Biden revealed that he counts his rosary beads, used for prayer, and goes to mass.
"I go to mass and I'm able to be just alone, even in a crowd," Biden said.
Colbert, who premiered his show on the CBS Network earlier this week, is himself a Catholic and has talked about his faith on a number of occasions. In a GQ magazine in August, Colbert said that the context of his existence is to serve God.
"I was raised in a Catholic tradition. I'll start there. That's my context for my existence, is that I am here to know God, love God, serve God, that we might be happy with each other in this world and with Him in the next — the catechism. That makes a lot of sense to me. I got that from my mom. And my dad. And my siblings," Colbert said.
When Colbert asked Biden about whether he was emotionally prepared to undertake a presidential campaign, the vice president said that there are a lot of factors to consider.
"I don't think any man or woman should run for president unless, number one, they know exactly why they would want to be president. And two, they can look at folks out there and say I promise you have my whole heart, my whole soul, my energy, and my passion," Biden said.
"And, and, I'd be lying if I said that I knew I was there. I'm being completely honest. Nobody has a right, in my view, to seek that office unless they are willing to give it 110 percent of who they are," he continued.