John Boehner Explains Why House Will Sue Obama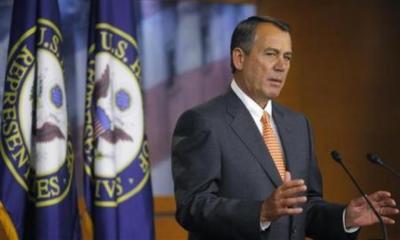 Speaker John Boehner (R-Ohio) explained that the House of Representatives will be suing President Barack Obama for attempting to circumvent Congress and push for laws through executive action. His comments come only days after Obama announced that he will not wait any longer for the House to act on immigration reform, and will fight for the issue on his own.
"Too often over the past five years, the President has circumvented the American people and their elected representatives through executive action, changing and creating his own laws, and excusing himself from enforcing statutes he is sworn to uphold – at times even boasting about his willingness to do it, as if daring the American people to stop him," Boehner wrote in an article for CNN on Sunday.
"That's why, later this month, we will bring legislation to the House floor that would authorize the House of Representatives to file suit in an effort to compel President Obama to follow his oath of office and faithfully execute the laws of our country."
Boehner accused Washington Democrats of ignoring more than 40 job bills passed by the House, noting that America is still undergoing slow economic growth and high unemployment under Obama.
The House Speaker argued that the President has not faithfully executed the laws, citing issues such as Obama's healthcare law, energy regulations, foreign policy and education. He insisted that "there must be accountability."
"Over the last five years, starting – not coincidentally – when his political party lost the majority in the House of Representatives, the President has consistently overstepped his authority under the Constitution, and in so doing eroded the power of the legislative branch," Boehner continued.
"The legislative branch has an obligation to defend the rights and responsibilities of the American people, and America's constitutional balance of powers – before it is too late."
While not mentioning immigration reform in the article, Boehner's comments came less than a week after Obama announced that he will move on his own on the issue after House Republicans refused to vote on a bipartisan bill this year.
"If Congress will not do their job, at least we can do ours," Obama said last week. The president has asked Homeland Security Secretary Jeh Johnson and Attorney General Eric Holder for recommendations on the type of executive actions he could take to address some of the aims of the comprehensive bipartisan bill.
After learning about the planned lawsuit against him, Obama said that he's "not going to apologize for trying to do something."
"As long as they insist on taking no action whatsoever that will help anybody, I'm going to keep on taking actions on my own that can help the middle class, like the actions I've already taken to speed up construction projects and attract new manufacturing jobs, and lift workers' wages and help students pay off their student loans," Obama said on Tuesday during a speech at the Georgetown Waterfront Park in Washington, D.C., according to CBS News.
"They criticized me for this. Boehner sued me for this. I told him, 'I'd rather do things with you, pass some laws ... Middle class families can't wait for Republicans in Congress to do stuff. So sue me."