Justin Bieber's a 'Spectacular Young Man,' Says Pastor Judah Smith
The City Church Pastor Appears on 'Fox & Friends' to Discuss New Book, Friendship With Bieber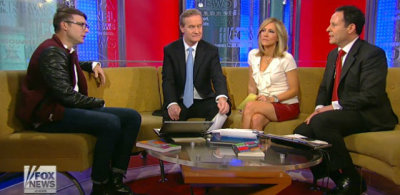 Judah Smith, pastor of The City Church in Seattle, Wash., appeared on Fox News Tuesday morning to discuss his new book, Jesus Is, and his relationship with mega-pop star Justin Bieber, who recently endorsed Smith's book to his nearly seven million social media followers.
When asked how he and Bieber first became friends, Pastor Smith told "Fox & Friends" hosts Alisyn Camerota, Steve Doocy and Brian Kilmeade, that he initially met the Canadian teen through his mother, Patricia "Pattie" Mallette.
"His mom called me about three years ago, and he was having a concert in Everett (Washington)," Smith explained. "Lo and behold he had heard me preach when he was younger in Toronto. I guess I used to put him to sleep. His mom said she'd play my tapes and he'd fall asleep."
"I do my best to encourage him, and he's a spectacular young man," added Smith.
The evangelical Christian pastor known for preaching the Gospel with authority and humor was also asked how he counsels a celebrity like Bieber, who "has every earthly temptation" thrown at him, including girls and drugs.
"Where do you begin with a celebrity like this?" Camerota wondered.
"I tend to think certainly Justin has a lot of opportunity and temptation, but frankly I think in the 21st century, we probably all do. I would encourage him like I would encourage most of our church in Seattle in terms of being like Jesus and asking the all-important question – what would Jesus do? Justin makes fantastic decisions in his life," said Smith.
Bieber has been vocal about his faith, saying in interviews that he has a relationship with Jesus Christ and believes he died for his sins.
Smith's relationship with Bieber became public knowledge when the star, named in 2012 by Forbes magazine as the world's third-most powerful celebrity, shared last week with his 6.9 million followers on photo-sharing website Instagram the cover of Smith's Jesus Is: Find a New Way to Be Human.
"So proud of my pastor. This book comes out on the 26th. Judah is the best speaker of our generation. Read this book [you] won't regret it," Bieber's said in a message attached to the photo.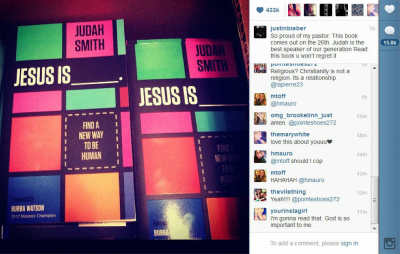 The Instagram image has since racked up more than 433,000 "likes" and attracted over 15,000 comments. It's unclear what kind of impact Bieber's social media message might have had on Smith's book, but Jesus Is has been in the top 10 among Amazon's Christian book titles. While available for purchase since last week, the book's official release date is Tuesday, Feb. 26.
The Seattle megachurch pastor explained on "Fox & Friends" that the purpose of Jesus Is: Find a New Way to Be Human is mostly to stimulate discussion about Christianity's most central figure.
"The idea is just a conversation to engage people about Jesus. Whatever you believe about Jesus, he's the most formidable figure in human history," Smith explained. "So what do you believe about him? Even if it's just historically. Obviously in my life, he's completely changed my life. The idea is not for me to give my answers, but to let other people fill in the blank and start a conversation."
Smith, 34, has been leading The City Church with his wife, Chelsea, after taking the reins of the nondenominational megachurch from the elder Smiths in 2009. The City Church is home to 6,300 worshippers. The pastor has also authored Soul Seekers: Our Call to People and the 13 Challenges We Must Face to Reach Them.
Watch Pastor Judah Smith discuss Justin Bieber and Jesus Is on "Fox & Friends":