Kay Warren Reveals She Had Prophetic Vision of Church Filled With Mentally Ill People After Son's Suicide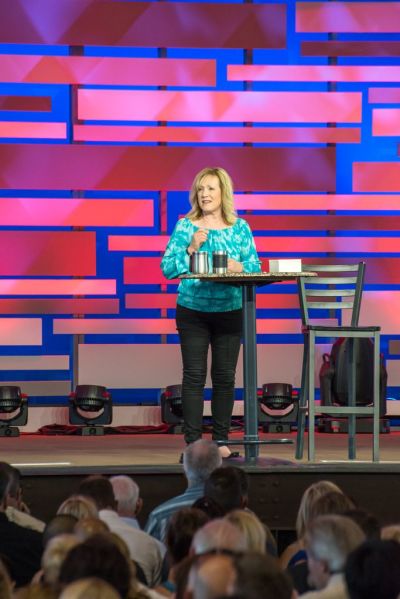 Kay Warren, co-founder of Saddleback Church and wife of Rick Warren, recently shared a prophetic vision she had of churchgoers not long after her son's 2013 suicide.
"I don't regularly see visions, so this was unusual. In my mind's eye, I pictured the Worship Center at Saddleback full of people who are living with a mental illness – depression, anxiety, borderline personality disorder, an eating disorder, bipolar disorder, schizophrenia – or any other mental illness that was making life challenging," Warren described in a Facebook post on Tuesday.
"Everyone in the room was reaching out to God without having to pretend that life felt okay – some people were crying, others wrapped themselves around a large wooden cross, some were praying, some were offering hugs to others – but all felt safe to bring their pain and their sorrow to God.
"Then I saw laughter – the kind of laughter that comes when others walking a similar life-path talk about the shared, common ups as well as downs, the moments of absurdity and humor in living with a mental illness. In my vision, hope began to rise," she shared.
Warren explained that the "hope" she saw was for no more isolation, hope for better days, and for relationships with others who understand what it's like to live with a mental illness.
The Warrens' youngest son, Matthew, took his own life after a lifelong struggle with mental illness at 27 years of age. His suicide prompted the couple to become heavily involved in raising awareness for people living with mental illness.
"He had a brilliant intellect and a gift for sensing who was most in pain or most uncomfortable in a room," Pastor Warren said of his son following his death in April 2013. "He'd then make a bee-line to that person to engage and encourage them. 
"But only those closest knew that he struggled from birth with mental illness, dark holes of depression, and even suicidal thoughts. In spite of America's best doctors, meds, counselors, and prayers for healing, the torture of mental illness never subsided."
Kay Warren stated earlier that she recognizes that suicide is a sin that interrupts God's divine plan for life, but at the same time does not believe it to be an unforgivable sin.
"Is it unforgivable? No, not from what I can understand. I think about Romans 8 where Paul says there is nothing, life nor death, nor angels, nor principalities, nor demons, nor things above. Nothing can separate us from the love of God through Christ Jesus our Lord. So I have complete confidence in those who have trusted Jesus for their salvation. That's how they should remain strong and sure and steady," she said in September 2015.
Rick and Kay Warren have promoted World Suicide Prevention Day and other initiatives aimed at fostering discussion and understanding on the subject matter. They have also been trying to remove the stigma associated with mental illness.
"The problem [with Matthew was] if your mind doesn't work, it doesn't work," Rick Warren said in 2014. "We're trying to remove the stigma with [mental illness]. If my heart isn't working, and I take a pill, nobody thinks anything of it. [Same with the liver]. But if my brain doesn't work right and I take a pill, I'm supposed to be ashamed of that? What's wrong with that?"
Saddleback Church will be hosting "Hope Rising," which is being organized by and for people living with a mental illness, on May 19.
"If you are living with anxiety, depression, or any mental illness, I invite you to come experience community and fellowship through music, art, story, silence, laughter, prayer, listening, talking ... and lots of hugs," Kay Warren said. "You are not alone!"