Ken Ham Responds to Bill Nye's Criticism of Ark Encounter: 'Nye Seeking to Brainwash Children'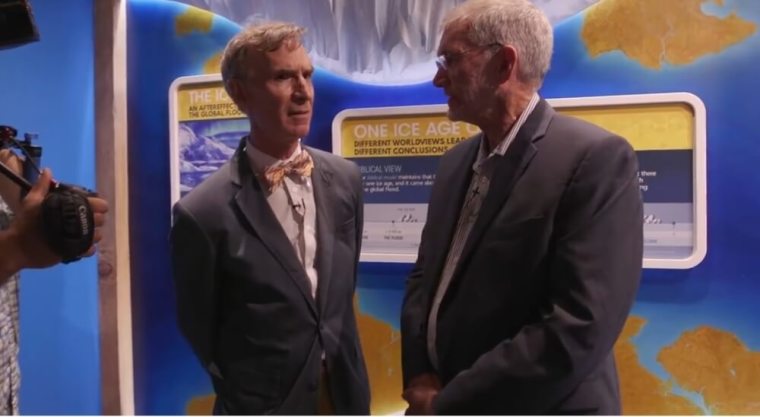 Young Earth Creationist Ken Ham has responded to criticism from Bill Nye "the Science Guy" over the recently opened Ark Encounter in Kentucky, by claiming that Nye is seeking to "brainwash" children and convince them that they're "just animals."
Nye had argued in an interview with NBC News that not only was the life-sized Noah's Ark theme park "disturbing," but on the Ark's third deck, every single one of the science exhibits was supposedly "absolutely wrong."
"Not just misleading, but wrong," Nye said.
Ham, who debated Nye on the topic of Creationism in February 2014, has been posting video clips of Nye's recent visit to the Ark on his Facebook page.
In the latest posting he addressed Nye's comments, by stating that his debate foe is seeking to "convince all children to believe they are just animals who arose by natural processes — and that there's no God!"
Nye, who rejects the idea that the Earth is only 6,000 years old, recalled one encounter in which a young girl at the Ark asked him to change his way of thinking, and insisted that her Creationist-supporting parents are brainwashing her.
Ham said, however, that what Nye really has a problem with is parents teaching their children about God.
"He wants to brainwash kids, to indoctrinate them, in his naturalistic (atheistic) religion of meaninglessness and hopelessness," the Answers in Genesis and Creation Museum president said.
As for Nye's claim that every science exhibit on the third deck of the theme park is wrong, Ham said that "the Science Guy" is being irrational.
"Yes, Ark exhibits do have signs on them offering interpretations based on a biblical worldview, and understandably Bill Nye disagrees with them. But there's a lot of information presenting facts from geology, genetics, anthropology, and so on that everyone agrees with, as we observe such things in the present," Ham wrote.
He added that while Nye is free to disagree with the "biblical worldview," to claim that so many of the exhibits are wrong is "just plain silly."
The AiG president further insisted that the Ark Encounter exhibits "show quite conclusively that observational science in the fields of geology, genetics, and anthropology confirm biblical history concerning man, animals, and the Flood of Noah's day."
Ham went on to accuse Nye of holding onto blind faith by believing that life arose by natural processes, and said that Nye wants people to accept his word as "religion."
Both Nye and Ham have accused each other of trying to negatively influence children through their respective worldviews and stop them from critically thinking.
Ham concluded his post by promising that a lot more clips from the two-hour debate between himself and Nye will be posted online.