Ken Ham's Noah's Ark Project Calls Out 'Intolerant Liberal Friends' in Billboards
Ken Ham's Noah's Ark Project Calls Out 'Intolerant Liberal Friends' in Billboards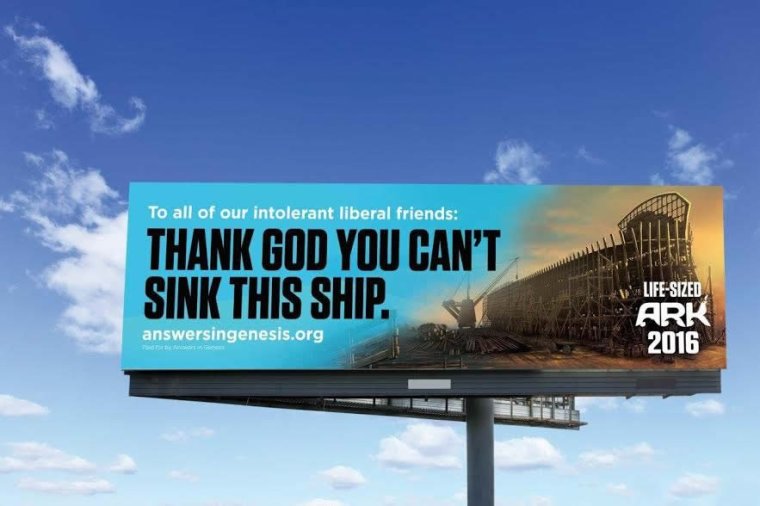 Ken Ham's Answers in Genesis group is launching a billboard campaign in Kentucky to advertise the full-size Noah's Ark project currently being built. The billboards are addressed to "intolerant liberal friends," and read: "Thank God You Can't Sink This Ship."
"The media and secularists have spread misinformation about the project all over the Internet and other outlets, and we want to encourage people to discover the truth about the Bible-upholding Ark Encounter," Ham, who is also the Creation Museum President and CEO, explained in his Answers in Genesis blog on Monday.
The Ark Encounter project, scheduled to be completed in 2016 in Northern Kentucky, aims to offer a theme park that presents the biblical account of Noah's Ark.
Sixteen of the billboards are expected to go up across Kentucky, while a digital billboard is set to be placed in New York's Times Square.
"Atheists and secularists," Ham said, "do not want to see Ark Encounter built and are doing everything they can think of to stop it." He claimed that they are spreading "blatant lies and misinformation."
The Ark Encounter has been criticized by Bill Nye "the science guy," whom Ham debated back in February. The former children's TV show presenter said that he hopes the project "goes out of business."
"If he builds that ark, it's my strong opinion, it's bad for the commonwealth of Kentucky and bad for scientists based in Kentucky and bad for the U.S.," Nye said. "And I'm not joking, bad for the world."
In March, "The Friendly Atheist" founder Hemant Mehta also criticized the idea that the Ark Encounter will bring in money for Kentucky through attracting tourists.
"If you want to help the economy, don't invest in biblical fantasies. Invest in (real) museums and planetariums and aquariums, giving children reason to think critically and dream big so that they'll enter fields that require further exploration and create the technologies necessary to drive the economic engine well into the future," Mehta wrote.
In a separate blog post on Monday, AiG posted an article to counter misinformation about the project.
"The most common myth is that the Ark Encounter is being built using tax dollars. This is utterly untrue. No unwilling taxpayers will see their tax dollars used to build the Ark. The money involved from the Kentucky Tourism tax incentive only concerns sales tax that will be collected from people who voluntarily visit the completed Ark when it is fully operational," AiG explained.
"With excellent attendance and the generation of tourism dollars for Kentucky, Ark Encounter might have the opportunity to have a portion of the sales tax it collects refunded (to a maximum-approved amount over 10 years through the state's legislation). This is the same incentive that is given to a variety of tourist attractions that have been built in Kentucky."
The article also contains photos of the construction of the Ark Encounter project.