Kitty Hawk Methodist Church Suspends Lead Pastor After 4 Women Accuse Him of Sexual Harassment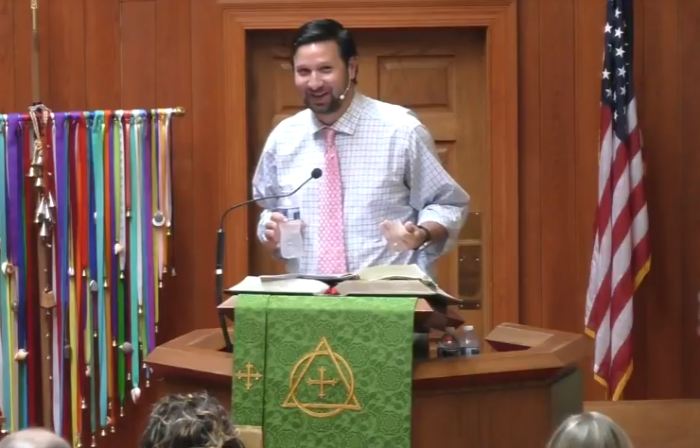 The Rev. Jonathan Mills, a young married father of two who has been leading the Kitty Hawk Methodist Church in North Carolina for just over a year-and-a-half, has been suspended from his position after four women lodged sexual harassment complaints against him.
The complaints were confirmed by the North Carolina Conference of the United Methodist Church, according to a WAVY.com report.
It's unclear what the nature of the complaints against Mills are, but the North Carolina Conference said his suspension has been effective since Dec. 19 and Mills could remain out of the pulpit for up to 90 days as they investigate.
Local police say no criminal charges have been filed against the pastor who began serving at the church in July 2016.
Church officials said: "Due to the complaint process, Rev. Mills is not allowed to talk to anyone at this time. This creates a time of safety for the complainants, for Mills and the church. He will be given an opportunity to respond as the process unfolds."
In the meantime, however, the church office investigating the allegations said they are working toward "a just resolution with healing and accountability."
"We are committed to integrity in pastoral relationships and receive any complaint against clergy with deep regret and seriousness," the North Carolina Conference of the UMC said in a statement.
"We surround all persons affected in this difficult situation with care, prayer, and confidentiality as we honor and engage the processes outlined in the Book of Discipline of The United Methodist Church. The Book of Discipline contains the polity and processes of The United Methodist Church," it explained.
Mills is married to Sarah Stormer Mills and is the father of two young boys who are both younger than 10.
"I am honored and thankful to serve as lead pastor of Kitty Hawk UMC. This church has become my family and we are committed to sharing the Good News of Jesus Christ — letting everyone know they are loved and claimed by God," he said of his recent appointment to lead the church.
Videos of him preaching on social media reflect an informal, millennial, preaching style. In a message delivered to his congregation in July 2017, he described himself as a "covert nerd" growing up because he was "tall and good at sports."
He added that when he was around 12, his hormones got going while he was at a church camp and he believed he had good "game" to get girls to go out with him.
"I had intentions," he said. "I'm gonna get the best looking girl here (at the camp). Me and my boys had a saying, we called it a '12 center.' We said she was a dime piece with some change to spare. I know that reference doesn't lay in with some of y'all but that's OK. Olivia was my 12 center, she was 14 years old and I was 12. She was fine she was good."
He explained that he went over to Olivia one day and told her he needed some help with Bible study as a cover to ask her out to the camp dance.
"I went up to her and said, 'Livia. Did you know I'm doing this Bible study [and] I need your help? She said, 'what do you need?' I said, 'see I'm studying the book of Numbers and I can't find yours in it. And whoo, game was on fleek son, 12 years old, she blushed," he said.
She agreed to go with him to the dance. When the day of the dance came, however, Olivia chose to go to the dance with the best looking 15 year old at the camp instead. He said a 12-year-old girl named Molly offered to go to the dance with him after seeing what happened and he turned her down out of anger, he said, to point out that "hurt people hurt people" even if it's unintentional.
In a report from The Book of Resolutions of The United Methodist Church, the General Conference of the UMC says that harassment is still a significant problem and well over three-fourths of the clergy (men and women) and half of the laywomen had experienced sexual harassment in the Church.
Some of the steps the Church takes to hold sexual offenders accountable included "removing errant pastors, lay staff, or volunteers as needed, and requiring counseling, training, and supervision before resumption of ministerial roles."