Kurdish Female Commander Resorts to Suicide Bombing; Kills ISIS Militants in Strategic Syrian Town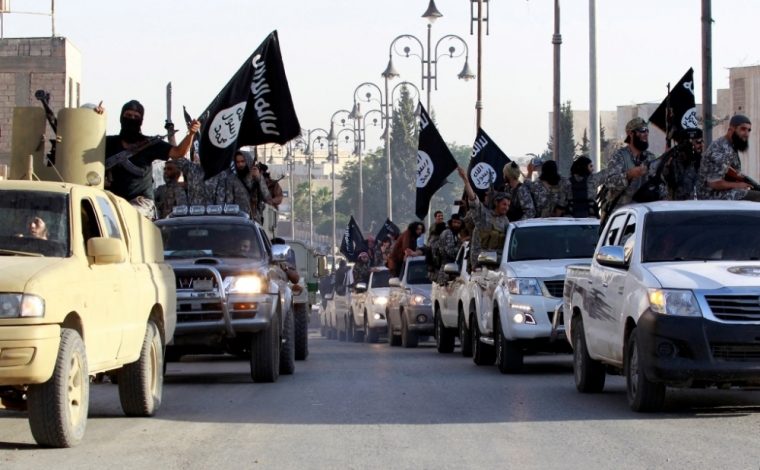 A female Kurdish fighter killed numerous militants of the Islamic State, or ISIS, by blowing herself up as the terrorists were fighting to seize a strategic Syrian town on Sunday night, according to a monitoring group.
The woman commander, belonging to the YGP, or People's Protection Units, the official armed wing of the Kurdish Supreme Committee of Syrian Kurdistan, launched the attack at an ISIS position east of the border town of Kobane, the Syrian Observatory for Human Rights reported.
The woman, identified on social media as Arin Mirkan, attacked ISIS as Kurdish fighters backed by U.S.-led airstrikes fought the militants for control of the town on the Turkish border, according to The Telegraph.
"The operation caused deaths, but there is no confirmed number," observatory director Rami Abdel Rahman was quoted as saying.
"Our call to all the young men and women of Kurdistan is to come to be part of this resistance," the YPG said in a statement. "Every street and house will be a grave for them (ISIS)."
It was the first reported instance of a female Kurdish fighter carrying out a suicide attack against ISIS, according to the UK-based monitoring group.
ISIS seized a section of the Mishtenur hill late Saturday, but airstrikes slowed them down Sunday.
However, a Kurdish official, Idris Nahsen, said airstrikes alone cannot prevent ISIS from taking the town. "They are not enough to defeat terrorist groups. The strikes are helping but we need heavy weaponry, armoured vehicles, cannons, rockets. They are one kilometre away in some places and two or three kilometres in others," Agence France Presse quoted him as saying.
ISIS has taken over about 350 villages around the city of Kobane, and over 150,000 people from the region have fled to Turkey.
ISIS released a video Friday showing the beheading of a British aid worker, Alan Henning. Last month, the Sunni terror group released footage showing the execution of another British hostage, David Haines. In two previous videos, the group showed the execution of U.S. journalists James Foley and Steven Sotloff.
ISIS, an al-Qaeda offshoot and also known as ISIL, has gained control of large swathes of territories in Iraq and Syria.
In Iraq, ISIS men have killed hundreds of civilians. Numerous members of the Christian and Yazidi minorities have also been killed, and tens of thousands of them have fled their homes.
ISIS, or Islamic State of Iraq and Syria, wants to form an Islamic emirate in the Levant region through "jihad." According to the CIA, ISIS has about 31,500 fighters across Iraq and Syria.
The terror group is believed to have hundreds of foreign fighters, including those from the United States and Europe.