'Left Behind' Movie Poster Revealed; Tim LaHaye Weighs in on Script
3 photos
(Photo: Stoney Lake Entertainment)
If seeing is believing then the teaser poster released by Stoney Lake Entertainment for its "Left Behind" movie reboot should settle once and for all any doubts about actor Nicolas Cage taking on a role in the film based on the 16-part Christian book series by Tim LaHaye and Jerry B. Jenkins.
The movie poster, shared with The Christian Post by Stoney Lake Entertainment, the newly-founded production company behind the film, shows Cage dressed in a ragged suit and torn tie. Behind Cage, in the distance stands a downed passenger plane, its nose buried in debris and flames. Farther back is a cityscape, overshadowed by dark clouds and billows of smoke. It's difficult to tell for sure, but the poster shows Cage either standing on sand, or walking on water.
Unlike the first Left Behind book, released in 1995 by Tyndale House Publishers, and its 2001 movie version, this adaptation begins hours after the rapture, or the spiriting away of Christians from Earth to heaven. "It will not cover everything that the first book includes, but will be more specifically concentrated on those first few hours and the chaos of the world in the wake of millions of people vanishing with no explanation," according to the official website for the film, scheduled for a 2014 release.
Paul Lalonde, CEO of Stoney Lake Entertainment and co-founder of Cloud Ten Pictures, which produced and distributed the first three "Left Behind," two of which went straight to video, told CP he's rebooting the film to give it the blockbuster treatment many had felt the original version deserved, including LaHaye.
"... I've spent 24 years producing Christian-themed TV, films and documentaries that were made specifically for a Christian audience. Preaching to the choir so to speak. It has always been my goal to produce a big-budget version of 'Left Behind' that would appeal to a wider audience. The resources to do this exist now where they didn't back in 2000," Lalonde said via email.
Lalonde, who founded faith-based Cloud Ten Pictures with his brother, Peter, said "Left Behind" starring Cage, Ashley Tisdale and Chad Michael Murray "will always have a Christian theme," since the plot is centered around the immediate events following the occurrence of the rapture.
The apocalyptic action flick is being co-produced by Lalonde and Michael Williams, J. David Williams serves as executive producer, and veteran stunt coordinator Vic Armstrong is directing. Based on an announcement on the official Facebook page for "Left Behind," casting is currently being done in Baton Rouge, La., where the movie is being filmed.
While Nicolas Cage is known for taking on countless memorable roles and earning dozens of awards in the process, the veteran actor has of late been criticized for appearing in less-than-stellar productions. Initial news that the "Ghost Rider" and "Adaptation" star was in negotiations for the role of Raymond Steele led to Internet chatter that such news made no sense, while others argued that it made perfect sense considering Cage's recent track record.
Fans of 2001's "Left Behind" are hopeful, however, and have expressed excitement at seeing artwork unveiled for the remake, which will also star Chad Michael Murray ("One Tree Hill" and "A Cinderella Story") as Buck Williams and Ashley Tisdale ("High School Musical") as Chloe Steele.
When contacted by The Christian Post for comment on the new film, LaHaye, who took Cloud Ten Pictures to court several years ago over rights issues over the series, said he had read the script, written by Lalonde and John Patus, and indicated that he was not a fan.
"It's probably the worst script I've ever read," LaHaye told CP. "And I've read scores of them."
"The plot line is nothing like the book. The only thing they retain are the names of the people, and maybe places," LaHaye added.
"There is no redemptive value to this movie," he continued, while acknowledging that "it's got a lot of intrigue."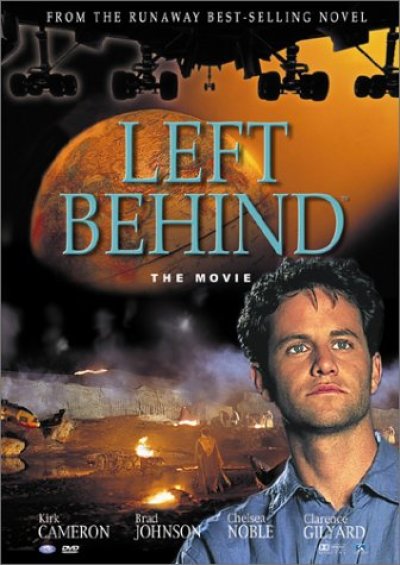 Lalonde and Patus co-wrote the screenplay for "Left Behind II: Tribulation Force," and Patus served as a consultant for its follow-up, " Left Behind: World at War." Lalonde also co-wrote the surprisingly successful initial "Left Behind" movie, which grossed $4.2 million in its theatrical release and became 2001's most successful independent movie through its video release.
Nonetheless, LaHaye and Jenkins, whose books have sold more than 65 million copies, called the productions glorified "church basement movies."
LaHaye, explaining why he felt the need to take Cloud Ten to court in a case that lasted nine years, said he was disappointed that 2001's "Left Behind" starring Kirk Cameron didn't get the initial theatrical production he said the contract had called for and he had dreamed about.
The Christian minister and author, who said he's not really sure how much money Cloud Ten actually put into making the 2001 film, knows well that "part of the problem with Christian movies, is that it's always been a money factor, to raise enough money to do a quality production."
Christian movies also have a hard time shaking the "cheesiness" factor, although there have been notable exceptions, such as "The Passion of Christ" ($370 million) and "Soul Surfer" ($43 million).
Although LaHaye didn't' see his dreams realized the first time around and doesn't have a hand in its remake, "Left Behind" seems to finally be headed for the theatrical treatment he had initially hoped for, just not in line with his exact vision. But he's still dreaming.
In his brief interview with CP, the author tested a "dream" title.
"How about 'Nicolae: Rise of the Antichrist,'" the 86-year-old minister offered, referencing the third title in the end times series.
"Some day I'd like to do that, but not now," LaHaye explained. He's currently working to help raise funds for another film, "The Resurrection of the Christ," said to be a sequel to Mel Gibson's 2004 film, "The Passion of the Christ."