'Living Biblically' Producer Says CBS Show Will Inspire People to Talk About Faith Again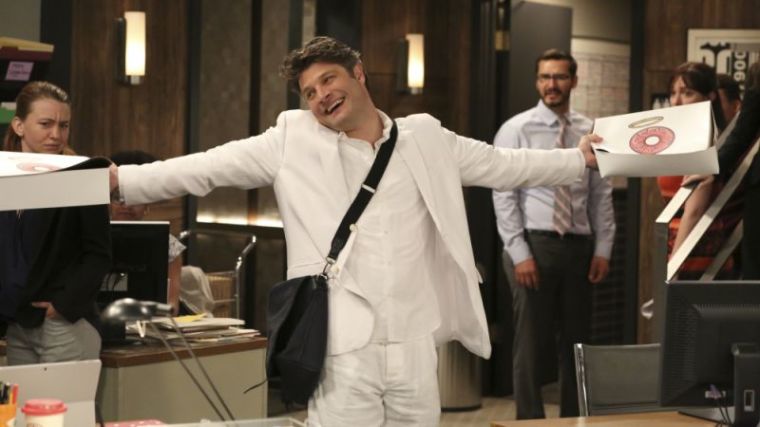 To encourage Americans to "start talking about faith," Hollywood producer Patrick Walsh made the largely unprecedented — and admittedly risky — decision to marry religion and comedy with his new show, "Living Biblically."
"People need to start talking about religion again," Walsh told The Christian Post in an exclusive interview. "I don't buy the idea that we live in a 'godless society.' Eighty-four percent of the world aligns themselves with religion, and 9 out of 10 people believe in God, yet religion is never discussed because everyone is too scared to offend. In talking about it, you can erase so many misconceptions about it on either side."
Airing on CBS Feb. 26, "Living Biblically" follows Chip Curry, a modern-day man at a crossroads in his life, who decides to live strictly in accordance with the Bible. A film critic for a New York newspaper and a soon-to-be father, Chip wants to be a better man following the loss of his best friend and decides to live his life 100 percent by the Bible to find direction.
Seeking guidance, Chip forms a "God Squad" with Father Gene, a Catholic Priest who helps Chip translate the rules of the Bible to a modern world, and Father Gene's best friend, easygoing Rabbi Gil Abelman.
"Chip's story connects with those who have faith, and those who don't," Walsh said. "Chip's wife is an atheist, and of course, he's a devout follower of the Old Testament laws. I think it's important to show that people can love, support, communicate and believe different things. We seem to be headed to a much more closed off mindset, and that's something we're trying to combat with this show."
The son of a theology professor and raised a devout Catholic, Walsh took pains to tackle biblical issues and Old Testament laws from an accurate and respectful angle.
"It was very tricky to nail the tone," he admitted. "We knew that just the idea of a comedy about the Bible would get people up in arms so we said, 'Let's really make sure we've done our research.' We had a priest and a rabbi read every draft of the scripts and tell us where we are wrong or where we could use a better example from the Bible."
Still, Walsh told CP it was "kind of a bummer" to read all the negative comments directed at his show — even before people had screened it.
"I stopped searching it on Twitter and Facebook," he said. "I was kicking my day off in a bad mood, and then I reminded myself that people haven't seen the show and there are a lot of misconceptions out there about what we're trying to do."
However, Walsh said the reactions he received from religious studio audience members during the live tapings were overwhelmingly positive.
"We made sure to have audiences that represented a wide variety of religions, and everyone loved the show," he said. "Any fear people had of being mocked or belittled went away quickly and was replaced by excitement hearing the issues discussed by a mainstream TV show."
By treating issues of faith "seriously and with respect," Walsh said, religion is made relatable to the modern-day audience. In one episode, Chip realizes he idolizes his cell phone; in another, he grapples with the biblical commandment to "honor thy father" when his dad isn't particularly deserving of respect.
"He learns to put 40 years of grievances behind him, and I think a lot of people can relate to that," Walsh said. "We really did strive to take these ancient texts and issues and make them relevant. Following the Bible 100 percent does make Chip a better person. He learns to be a better father, friend, husband, and son."
He added, "Each episode has a powerful and important message, and it all comes to through the Bible. I think that'll be a surprise to people."
Walsh said he hopes the show not only entertains audiences, but encourages discussions about the Bible — and religion in general — in everyday life.
"My goal is for families, husbands and wives, priests, pastors, and spiritual leaders to talk about the show and use it to connect with people. I hope it makes people realize how relevant the Bible is, even when it seems antiquated in the details. In its spirit, all of the lessons in the Bible could benefit your life and they're hard to argue with. They're basics on how to be a good person."
"Living Biblically" premieres on CBS on Feb. 26 and stars Jay R. Ferguson, Lindsey Kraft, Ian Gomez, David Krumholtz, Tony Rock and Camryn Manheim.
For more information, visit the show's website.