Luis Palau Health Update: Son Andrew Asks for Prayers for Father's Strength (Video)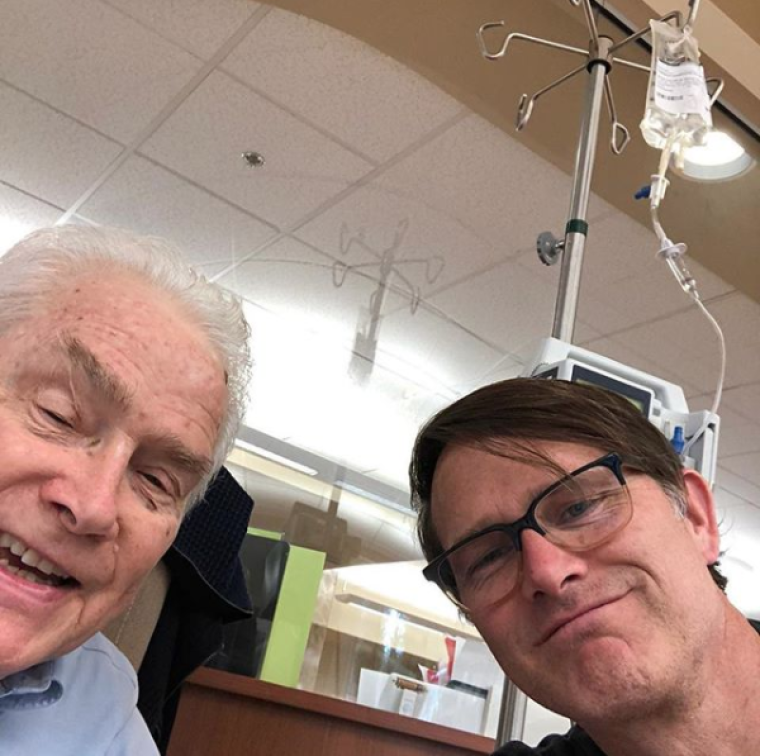 NASHVILLE — Andrew Palau recently spoke with The Christian Post about the upcoming film "Palau the Movie," where he also shared a health update on his father, world-renowned evangelist Luis Palau.
The film began production before the shocking announcement that the beloved minister was diagnosed with stage 4 lung cancer earlier this year. It's the autobiographical film of Luis Palau's life, which began in Argentina when he was discovered as a young street preacher who would go on to impact the world for Jesus.
"He's doing well in his inner spirit and in his confidence about eternity. He's strong as can be. He can't wait to get there in a way, [but] don't count him out yet," Andrew told CP. "Every day is like gold. We got to maximize every day and take advantage and we've done so. Thank the Lord we have no regrets."
Andrew, who has followed in his dad's footsteps and is an evangelist in his own right, added: "He didn't feel bad when we discovered the cancer. He was surprised, but then the chemotherapy process is making him feel up and down. So pray for his strength and especially that he could just maximize it. But how wonderful [it is] to see someone going strong to the very end?"
"We do ask for prayer for mom and dad continually."
Palau was joined by his two sons, Kevin and Andrew, in January to make the devastating cancer announcement.
"We wanted to tape this video to tell the whole world that love dad and the work that we do what's been going on in dad's life," Kevin, president of Luis Palau Ministries, said in the video announcement. 
"To our surprise, the early report that we got just before Christmas [said] that there was some cancer inside one of dad's lungs," Kevin explained. "Just a few days ago we got the word that it's stage 4 lung cancer. That's a shock, especially with someone who's always been as healthy as dad," Kevin continued.
The video now has millions of views across different social media platforms and Andrew explained why he believes so many people were moved by it.
"Everyone wants to know what would happen to me in that moment. What will it feel like? What would it be like? And it's very compelling to see a man who's just honest," he said. "He talked about, 'Man, I just cry so much now.' And he has been crying a lot because he doesn't want to be away from his family but he wants to be with the Lord, and you're just kind of torn."
Andrew explained that his father is being realistic and honest but has a strong confidence, similar to what's talked about in 1 John which says: "I write these things so that you may know that you have eternal life."
"It's been great to just watch him and get that inspiration for our own selves because will all be there," he stressed.
Andrew was saved at a Luis Palau function in 1993 after years of being backslidden. Now he's leading his own evangelistic campaigns around the world, proclaiming the Good News of Jesus Christ.
The loving son admitted that he was happy his father agreed to do the film before learning about his cancer diagnosis or else it might not have been approved.
"We're really lucky that he said yes to doing the movie before he got the cancer, because one thing I've seen about him, as he approaches being closer with the Lord, is he doesn't want people talking about himself," Andrew said.
"This movie doesn't glorify him, it's an honest look at how many of us — we're all the same — we wrestle through the same battles but we also can have the same victories if we take the principles of the Bible to heart," he continued.
"Palau the Movie" tells the beloved evangelist's life story. As seen in the trailer, the movie begins with a young Palau who loses his father and then has to help out his impoverished family. He would eventually be inspired by the late Billy Graham, which would help him to get into ministry. The film also shows some of the trials he faced as a street preacher and evangelist.
"I hope you'll see the movie and bring the young people, because it's such a beautiful illustration for young people [to know] that whatever Gods put on their hearts the world will want to tear them down and say, 'Don't be ridiculous, there's so much hopelessness and division in this world, nothing good can ever happen through you.' And here's a picture of someone who just believed God and perseveres," Andrew added.
"Palau the Movie" will be released in Latin America and the United States in October. For more information visit the film's Facebook page or PalautheMovie.com.