Marco Rubio, Ted Cruz, John Kasich Form Alliance to Stop Trump?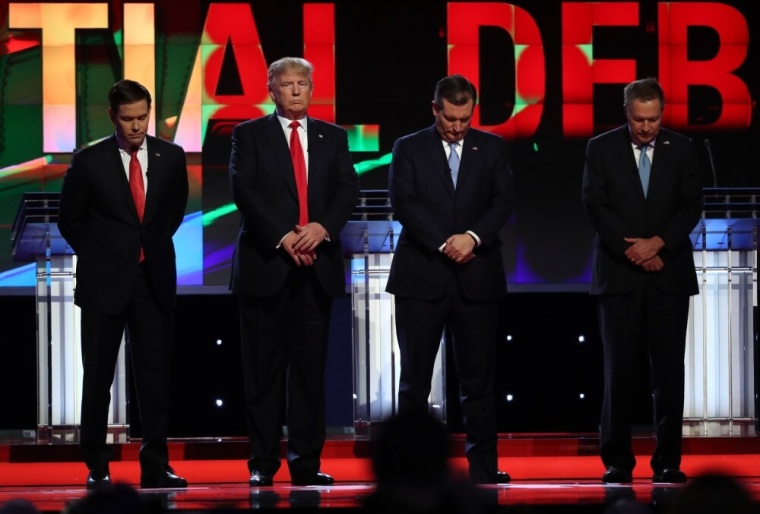 Days before Republican primaries in Ohio and Florida, candidates Sen. Marco Rubio (Florida), Sen. Ted Cruz (Texas) and Ohio Gov. John Kasich appear to have one common goal – to stop frontrunner billionaire real estate mogul Donald Trump.
Kasich's campaign seems to be focusing on Ohio, Rubio's campaign on winning Florida, and Cruz doesn't want to split votes in either of the two state that will go to the polls Tuesday.
Rubio's communications director Alex Conant said publicly that Kasich is the best candidate to defeat the billionaire businessman in Ohio, while Sen. Rubio can beat Trump in Florida.
"If you are a Republican primary voter in Ohio and you want to defeat Donald Trump, your best chance in Ohio is John Kasich," Conant said in an interview with CNN Friday. Did that mean he was telling Rubio supporters in Ohio to vote for Kasich?
"Yeah, my answer is John Kasich is the one candidate in Ohio that can beat Donald Trump," Conant said. "That's stating the obvious. So ... if you're a Republican primary voter in Ohio, and you don't want Donald Trump to be the nominee, John Kasich is your best bet."
Trump campaign manager Corey Lewandowski responded by saying that Rubio is "losing badly" in both states. "What else can he say?"
Rubio, who was at a campaign event in Naples Friday, said while he has never talked to Kasich about this, "clearly John Kasich has a better chance of winning in Ohio and if a voter concludes that that's the best chance to beat Donald Trump, in Ohio, then they will do that."
Trump's attack on Kasich followed, claiming in an ad, that the Governor of Ohio "helped Wall Street predator Lehman Brothers destroy the world economy."
To defeat Trump also in Florida, Cruz and Kasich would need to stay away from that state. "A vote for Ted Cruz and a vote for John Kasich in Florida is a vote for Donald Trump," Rubio was quoted as saying.
Cruz's campaign has reportedly taken down ads related to Florida.
Kasich campaign spokesperson Trent Duffy was quoted as saying, "We welcome the support of the Rubio campaign. Voters should not be told what to do. Voters need to vote with their conscience."
Both Kasich's and Rubio's campaigns are not expected to do much to seek votes in Illinois, Missouri and North Carolina, where Cruz is likely to focus.
Editors of the National Review magazine Friday endorsed Cruz, saying he "is a brilliant and articulate exponent of our views on the full spectrum of issues. Other Republicans say we should protect the Constitution. Cruz has actually done it."
They continued: "What matters now is that Cruz is a talented and committed conservative. He is also Republicans' best chance for keeping their presidential nomination from going to someone with low character and worse principles… Conservatives have had difficulty choosing a champion in the presidential race in part because it has featured so many candidates with very good claims on our support. As their number has dwindled, the right choice has become clear: Senator Ted Cruz of Texas."