Protesters Cast a Shadow Over Mark Driscoll's Trinity Church Open House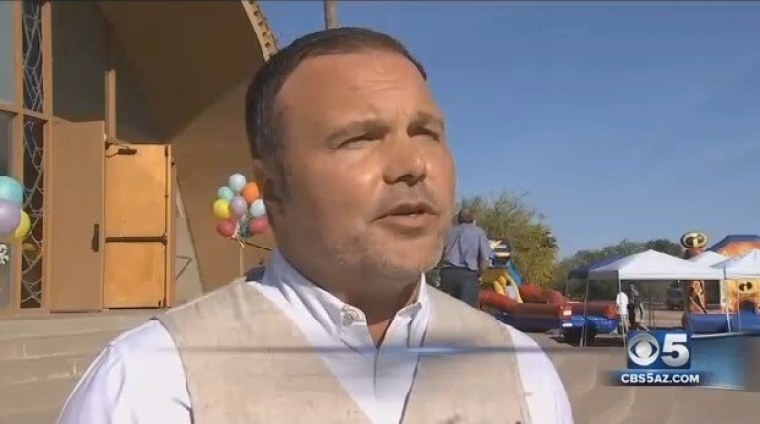 Ex-Mars Hill Pastor Mark Driscoll's attempt at a new beginning was somewhat overshadowed Easter Sunday as protesters gathered outside Driscoll's new Arizona-based Trinity Church to warn congregants of the pastor's alleged misdeeds.
Although few in number, protesters held signs that read: "Trinity = Mars Hill" and "Where'd all the Money Go, Mark???" alluding to the allegations surrounding the embattled pastor's tenure at the now defunct Mars Hill Church.
Protester Bob Sluys, a former member of Mars Hill, according to a report from KCTV5 News, yelled to parishioners as they entered the building, "Ask Mark, but he won't answer! His [Driscoll's] empire was built on the back of unpaid labor, volunteers, abusive culture, and all for Jesus' fame."
Driscoll denies the allegations against him, which include plagiarism, fostering an abusive work environment, and most recently civil racketeering. In fact, regarding the racketeering claim, the pastor told the local news station that he has no knowledge of it and hasn't even been served with charging documents.
"I don't know anything about that," Driscoll told KCTV5. "Haven't been served, nothing has been done. At this point it's false and malicious, and I would reject and refute all of that, and I'm very excited it'll all be cleared up."
The Christian Post reported earlier this month that the latest allegations against Driscoll include a lawsuit that names him, former Mars Hill chief elder Sutton Turner and others, alleging fraud and racketeering regarding donor contributions. Filed by the Law Office of Brian Fahling less than two weeks before Driscoll announced the Easter gathering at his new church, the suit questions how more than $2 million in donations for church planting and a festival were spent during Driscoll's tenure as pastor of Mars Hill.
Hoping for a fresh start with a new congregation in Scottsdale, Driscoll told KCTV5 that he'll function as a Bible-teaching pastor at his new church. "I'll open the Bible and preach and teach Jesus."
Despite his troubles, Driscoll has received support from many fellow clergymen — South Carolina-based megachurch Pastor Perry Noble being one of the most vocal. In early February, Noble took on critics of the ex-Mars Hill pastor who felt that he wasn't ready to lead another congregation.
"Here's a man who messed up, made some mistakes, admitted it, apologized, said he was sorry — he's starting over. … Who made you the judge on whether or not he's ready?" Noble questioned.
Driscoll was once described as one of America's "most prominent and celebrated pastors" by Forbes, but he resigned in disgrace as senior pastor of Seattle-based Mars Hill in October 2014 after a confluence of events marred his reputation, including allegations of plagiarism and fostering an abusive work environment. Two weeks after Driscoll's resignation, Mars Hill Church announced that it would dissolve.