Max Lucado Featured in Anti-Trump Ad Launched by Progressive Christian Group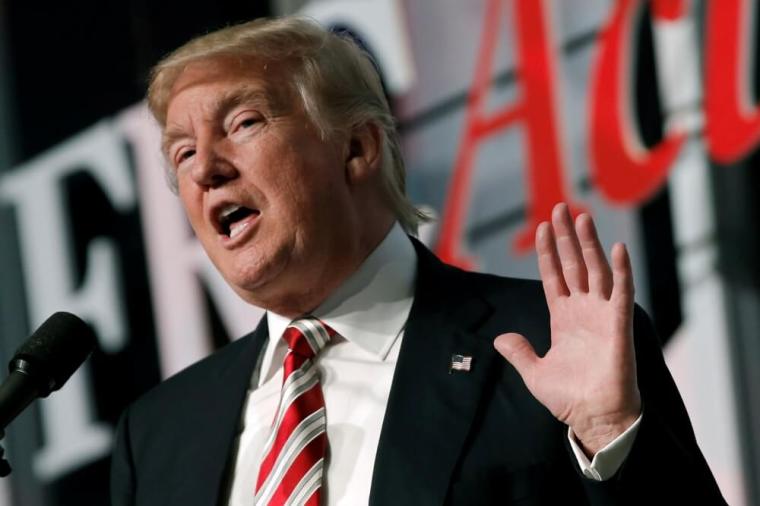 A progressive Christian nonprofit organization has launched a six-figure advertising campaign that highlights the immoral behavior of Republican presidential nominee Donald Trump and is designed to target millennial evangelicals and Catholic women during the last few weeks leading up to the election.
The liberal-leaning nonprofit Faith in Public Life Action recently launched four different short advertisement videos that have been posted to social media sites like Facebook, YouTube and Pandora. Additionally, the organization is paying as much as $300,000 to run the video ads on prominent online news websites in key battleground states like North Carolina, Ohio, Georgia, Florida and Virginia.
One of the videos, titled "Lucado," features remarks made by best-selling Christian author and preacher Max Lucado during an interview with NPR earlier this year.
Lucado, who has spoken out and penned op-eds in the past year to express his opposition to the candidacy of the billionaire real estate mogul and thrice-married casino owner, doesn't often speak out about political issues. However, Lucado is featured in the ad explaining why he has been vocal about Trump's self-proclaimed Christianity.
The ad plays audio of Lucado saying, "I would not have said anything about Mr. Trump if he didn't call himself a Christian."
Additionally, the ad plays audio of Lucado telling NPR that Trump "is a man who holds up a Bible one day, and calls a lady 'bimbo' the next."
Lucado's bimbo comment refers to how Trump retweeted one of his fans who called Fox News host Megyn Kelly a "bimbo" earlier this year after she pressed him during a Republican presidential candidate debate about his attitude and lewd comments toward women.
The ad also plays audio of Lucado criticizing Trump for having "the audacity to make fun of a lady's menstrual cycle," which refers to Trump quipping during an interview with CNN last year about how there was "blood coming out of [Kelly's] wherever."
The ad concludes with a narrator asking, "Is this the kind of leadership Christians want for America?
"Let's tell Donald Trump to be more respectful," the ad states.
Another video produced by the organization attacks Trump for remarks he made during an interview with CNN last year. In the interview, Trump asked, "Why do I have to repent? Why do I have to ask for forgiveness if you are not making mistakes?"
Another video questions Trump's inability to be a "role model for children."
"A role model for children treats others as he would like to be treated, is slow to anger, treats women with respect, humble. These are the values we all look for in our husbands, fathers, coaches and religious leaders," the ad's narrator states, followed by clips of Trump making various questionable statements and making fun of a disabled reporter.
The fourth video launched by the organization attacks Trump for praising brutal dictators.
"He praises Saddam Hussein, who gassed his own people including women and children. He praises Vladimir Putin, who's killed his political opponents," the ad states. "Is this the kind of leadership Christians want for America?"
According to a press release from Faith in Public Life Action, the organization's ad buy is significant because "it is possibly the largest ad buy by a faith group not affiliated with the religious right."
Faith in Public Life President, the Rev. Jennifer Butler, who advocates for progressive political policies, also headed a recent joint statement in condemnation of Trump, which was signed by over 700 different female Christian leaders.
"As Christian women we are appalled by Republican presidential nominee Donald Trump's recorded remarks that disparage women and condone sexual assault," the statement reads. "Such language cannot be dismissed as 'locker room talk.' Mr. Trump must offer public contrition that fully acknowledges the seriousness and depravity of his actions."