Megachurch Pastor Bill Hybels: Jesus Was 'Blindingly Clear' on Engaging Prisoners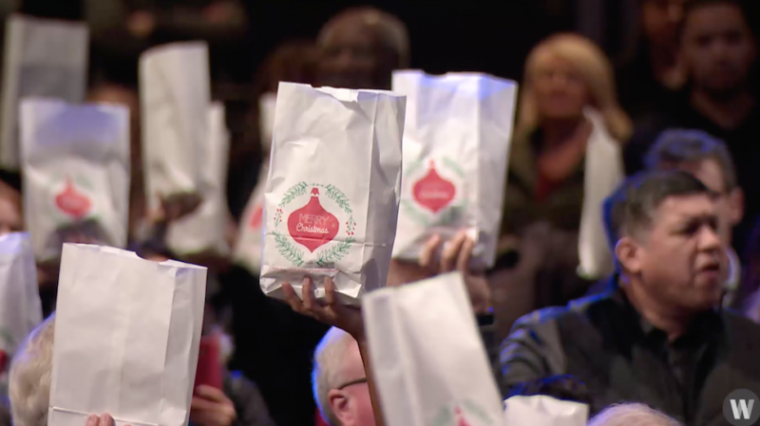 Bill Hybels, founder of Willow Creek Community Church in Illinois, is glad he didn't pass away in his mid 50s. If he did, he would have had to explain to God why he never visited a prisoner.
The long-time megachurch pastor made this statement at his church on Sunday as thousands of attendees prepared to pack Christmas bags for inmates as they have done for the past four years. This year, every inmate in the state of Illinois will be receiving a Christmas gift bag.
"I follow God's son, Jesus Christ, who was blindingly clear about how I should engage with prisoners," said Hybels. "If I had passed away at 55 despite all that clear training and additionally because I'm a pastor, I would've had to explain to God that I didn't pray for prisoners, that I had never visited one, I had never lifted a finger to help prisoners in any way."
When Hybels, 65, began visiting prisons he said "the fist overwhelming sense" he got was that "this was one of the most hopeless environments on the planet."
"Hope," he said, "has to be brought inside by those from the outside."
Bryan Stevenson, founder of Equal Justice Initiative in Montgomery, Alabama, told Willow Creek attendees on Sunday that Christians need to step up and respond to God's call of justice.
With 2.3 million people locked up in U.S. prisons today, Stevenson urged Christians not to give up or turn their backs on those who have been condemned and essentially thrown away by society.
"Of course people who commit crimes have to be held accountable. God wants us to hold people accountable," the well-known attorney and social justice activist said. "But He also wants us to keep pushing for redemption."
He listed four actions Christians can take to "do justice."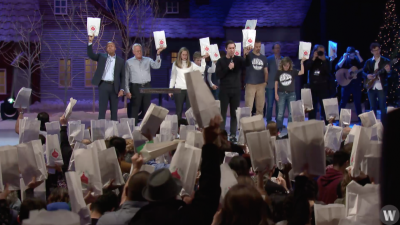 First, "get proximate to people" who have been excluded, incarcerated, abused, and neglected, he said.
Rather than staying far away from the "bad part of town," Stevenson encouraged going into it and being witnesses.
"There's power in proximity," he stressed, noting that oftentimes the solutions politicians present do not work because they are so far from the problem.
Second, change the narrative.
People are told to be afraid and angry and many people who should not be in jail, such as drug users, have been incarcerated, he noted.
"If we allow ourselves to be governed by fear and anger, we will tolerate things that are unequal, that are unjust, that are unfair," Stevenson said.
Third, "we've got to stay hopeful" because "hope is what gets you to speak when other people say be quiet."
"It takes courage to be hopeful," he said.
Fourth, Christians must be willing to do uncomfortable things.
In the end, Stevenson pointed out, it's not just the inmates who are broken, and it's not just the system that's broken, but everyone is broken.
"God is calling broken people here to stand with Him to do justice," he said. "In the church we come because we're broken, … we confess that and there's power in that and we have to share that with a world that has gone astray."
Willow Creek Church has been sending volunteers to prisons every week to foster relationships and conduct Bible studies.
Tom and Wendy Horton, who have been visiting inmates for over a decade, believe that if Jesus was on earth today, "He'd be hanging out at Cook County Jail."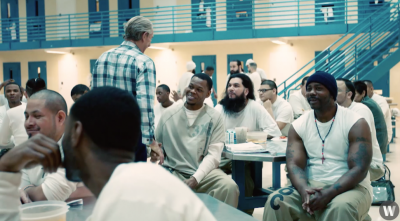 With volunteers visiting inmates several times a week, Cook County Sheriff Tom Dart was surprised to find that the Bible study program was actually working. He noted in a video for Willow Creek Church that inmates charged with first-degree murder would hold hands and pray together.
"I was so blown away by the program," said Dart.
A 25-year-old inmate, identified as Paris, said the program has changed his life. "I'm trying to become a better person," he said.
Paris and several other inmates also expressed gratitude for the love they've been receiving from strangers.
"Those [Christmas] bags are phenomenal," Paris said. "It gives us a sense of love, … of joy. We get a sense that somebody out there that love us that don't even know us. That love is very strong and profound."
At the end of Sunday's worship service, attendees packed bags with books, including a Bible study on the life of Apostle Paul, and snacks. The Christmas bags will not only reach Illinois inmates but they will also be delivered to those at Louisiana State Penitentiary.
Churches in four other states have also joined the initiative and will be delivering Christmas bags to inmates in their states.
"There are very few churches … that would make a commitment like this with as humble and serving an attitude and as joyfully as you engaged in this," said Hybels after the bags were packed. "You will be able to stand before God someday and say 'I did something.' And if God stirs for you to do more, then do more as He prompts you."
Hybels said he has been praying that every incarcerated person in all 50 states will someday receive a Christmas bag.