Megachurch Pastor Chris Hodges: Church Is Not Just for Christians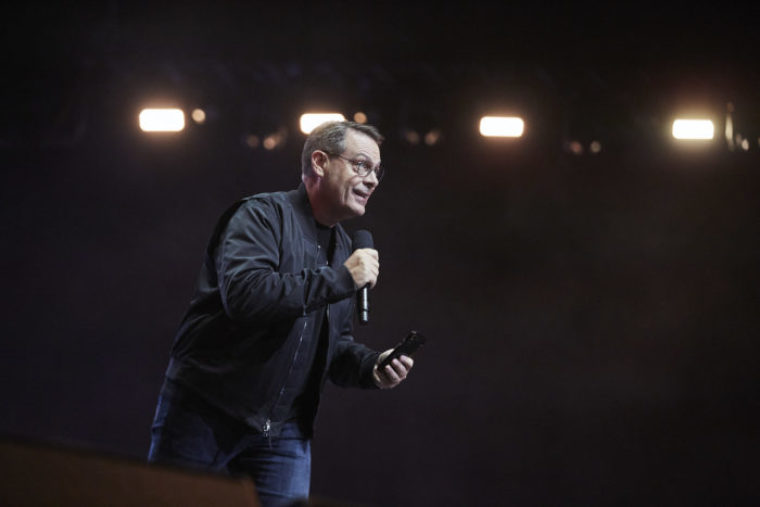 The church is not an exclusive place for "church people," Alabama megachurch pastor Chris Hodges said.
"We've got to make sure the church understands what the church exists for," the pastor of Church of the Highlands told Premier while at a Hillsong Conference last month. "We don't exist to be a little club that we have just for us — too many people think the church is for church people."
Hodges, who leads a congregation of over 45,000 people in Birmingham, maintained that church was never supposed to be a place just for believers.
"I personally believe the church is a place where people who don't agree with us can come," he said. "We've had to train our church people and teach them how Jesus lived his life and how He ministered to people."
He stressed that God's heart is with the "lost" (nonbelievers) moreso than those who have been found (are already Christians).
"[God's] not thinking about His found kids, He's thinking about His lost kids," Hodges said. 
And the best way to love God is to love the people He loves. "God loves the lost," he stressed.
When it comes to reaching out to the community with the Gospel, the megachurch pastor likes to go by this saying: Connect before you correct.
"Jesus connected before He corrected," he pointed out, citing biblical examples such as when Jesus approached Zacchaeus the tax collector.
When Hodges received a gift certificate to get a custom-made suit, he found himself in a shop with a Hindu tailor whose gods were displayed in the store. During his visit as he was measured and picked out fabrics, neither mentioned their faith, though the tailor was aware Hodges was a pastor, and they had a pleasant conversation. They enjoyed their time together.
At the end of the visit, the tailor told Hodges he was "very different" from other pastors who would visit his store and tell him his Hindu gods were false and that he would be going to Hell. The tailor then said he wanted to visit Hodges' church. 
Though Hodges agrees with the other pastors, that type of approach turns people off, Hodges noted.
"They (the other pastors) were correct but they weren't helpful," he said. "Jesus didn't call us to be right. He called us to be effective."
"Just by connecting with him first, not correcting him first — there's a place for correction; I'm not saying be soft on the Scriptures. I think you can stand firm and love well at the same time but you have to get the order right (connect before you correct)," he explained.
"Neither do I condemn you. Now go leave your life of sin," he said, citing Jesus' words to the woman caught in adultery (John 8). "The order is important."
"That's why I wrote the book — most people feel ill-equipped and don't know how to both stand firm and love well."
Hodges' book, The Daniel Dilemma: How to Stand Firm and Love Well in a Culture of Compromise, was released late last year.
It examines tough questions for believers, namely how to hold firmly to biblical beliefs "without becoming obnoxious, insulting, or mad," a synopsis for the book says.
"We can stand strong while loving others well. Because standing for truth isn't about winning the argument; it's about winning hearts. And when we learn the secret of connecting before correcting, we discover that we can respond to today's hard questions without compromising grace or truth."
In the book, Hodges says that his main hope is to encourage Christians who are struggling with keeping God's standards within their cultural reality, arguing that that is what Jesus did and is what His followers today are also called to do.