Meriam Ibrahim Reveals Baby Daughter Will Undergo Ultrasound to See if She Can Walk; Family Hopes for US Move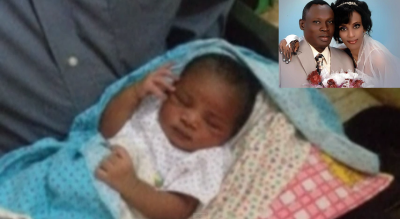 Sudanese Christian mother Meriam Ibrahim said that her newborn daughter Maya, whom she gave birth to while in prison, will undergo an ultrasound to see if she can walk. Her family is currently staying at the U.S. Embassy in Sudan and hoping to be able to move to America soon.
While previous reports suggested that Maya is physically disabled, The Daily Mail reported on Tuesday that hopes are now that the two-month-old girl will be fine, but the ultrasound will be needed to confirm that she will be able to walk. A doctor who came to the U.S. embassy in Khartoum performed the physical examination.
The publication says that it spoke with Italian journalist and activist Antonella Napoli, who visited Ibrahim's family at th U.S embassy, and revealed that Meriam, her two children, and her husband Daniel Wani, an American citizen, are sleeping in the embassy and are being cared for by staff.
Fears were that Maya, who was born in jail while her mother was in shackles, could be in a wheelchair for the rest of her life, like her father, who has muscular dystrophy.
Ibrahim had initially been sentenced to death for marrying Wani, a Christian, as the Sudanese court recognized her as a Muslim and charged her with apostasy and adultery.
Following an international outcry for her release, led by several persecution watchdog groups, Ibrahim was freed from prison in June after an appeals court found the lower court's death penalty sentence to be unfounded. As Ibrahim's family tried to fly out of Sudan and head for the U.S., however, she was re-arrested and accused of using forged travel documents.
Ibrahim and Wani were released from the police station shortly after, but remain in legal limbo as they try to find a way to come to the U.S. and seek refuge there.
U.S. Representative Randy Hultgren (IL-14) and other American lawmakers have pushed for Ibrahim to be granted safe passage, and on Tuesday backed the passage of H. R. 4653, a bill which reauthorizes the United States Commission on International Religious Freedom, a bipartisan federal commission aimed at defending the universal right to freedom of religion or belief abroad.
"As someone with deeply-held religious convictions, I believe that everyone has the fundamental right to profess their faith and practice their religion wherever in the world they may live. As Miriam Ibrahim remains safe but in legal limbo at the U.S. Embassy in Sudan, it is imperative we maintain vigilance in protecting religious freedom abroad," said Rep. Hultgren.
"By nature, every human being is given certain rights, including the fundamental right of belief, which no government can justly attack. It is in the common interest of humankind to defend those persecuted for expressing their beliefs and practicing their religion."
Napoli, who is one of the few journalists to speak with Ibrahim after her release, attested that "Meriam knows that her and her family will be safe only when they will be very far from away from Sudan."
Napoli added that the Sudanese mother was in "good physical and mental condition, although she's naturally been tested by this experience."
"When I started to talk to her she was keeping her eyes down," she noted. "It was difficult for her to meet my gaze. Her hands were folded in her lap as if to protect herself. Her experience in the prison was shocking.
The journalist said that the family is very thankful for all the people around the world who have rallied to petition for Ibrahim's release and safety. Wani expressed thanks "for the commitment of people and media" that pressed for his wife's release.
While the family remains hopeful they will soon be allowed to travel to America, it remains to be seen what the next move by Sudanese authorities will be.