Michael W Smith Fulfills 'Prophetic Word' With Nashville Worship Event: 'There Was a Mighty Move of God'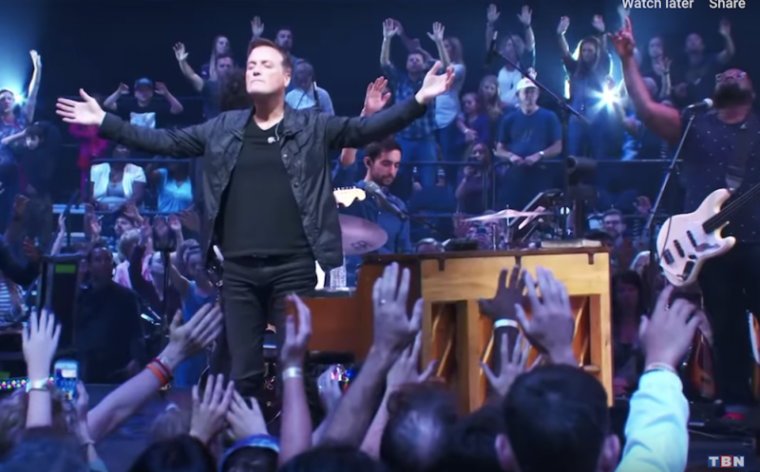 Legendary Christian artist Michael W. Smith spearheaded a massive Nashville concert in August where he said he felt "called" to usher in a great awakening throughout America, and shared the powerful impact the worship event has had on people's lives.
"When I think back on the night, one of the first things that comes to my memory is the diversity in the audience. All colors, all ethnicities, all ages — young, old. It was probably the most racially and ethnically diverse crowds I've ever played for," Smith told The Christian Post this week.
"It was beautiful and I remember thinking: 'This is what Heaven will look like.'"
Smith partnered with TBN, the No.1 Christian network worldwide, to broadcast the worship experience to a global audience in 175 countries. The event was held at Nashville's Bridgestone Arena on Aug. 30 and rebroadcast on TBN earlier this week. Inspired by his album Surrounded — which came from a warning he received from God to unite and stand up against the injustices of the world — "Surrounded: A Night to Pray, Worship and Be Awakened," had an in-person audience of more than 13,000.  
"Without question, there was a mighty move of God in the arena that night. And now, weeks later, I'm still hearing reports of lives changed, commitments deepened, and people empowered in a new way. Not just here [in Nashville] but from people in other cities and states that were here that night," He told CP. "I believe there will be an impact in days, weeks and even years to come; not because of me, but because [of the Bible's] promise."
Smith then quoted 2 Chronicles 7:14 which says, "If my people, which are called by my name, shall humble themselves, and pray, and seek my face, and turn from their wicked ways; then will I hear from Heaven, and will forgive their sin, and will heal their land."
The worship service kicked off with a prayer for the city of Nashville, surrounding communities and the nation, and featured appearances by some of Smith's friends, including the legendary CeCe Winans, Pastor John Gray and dozens of others.
"This night is going to trigger something that will spread like wildfire across this country and around the world," Smith said after the event. "I really believe that with every fiber of my being."
In an earlier interview with CP, Smith recalled hearing many prophetic words over the years about Nashville and said he believed the Lord was getting ready to do something major in the music city.
"Other than Jerusalem, I think there's something very strategic about Nashville. There's a prophetic word that was [spoken] years ago, I actually knew this guy, he's now in Heaven and he prophesied, 'There will be a shout heard all around the world and that shout came out of Nashville, Tennessee,'" Smith explained.
"We've had these people who've been passionately praying for this next great awakening, for this next move of God. Then all of sudden, I thought, 'Oh my gosh, I think I'm supposed to spearhead this thing.'"
Leading up to the event the West Virginia native said prophetic words were spoken to him about the event and they always referenced the word "trigger."
"I think what might happen, what I believe is going to happen, is there's going to be a trigger. You're going to see cities all across America and all around the world start doing this sort of thing. It's going to trigger a move and I think you're going to see something shift," he maintained.
For more information about the event, visit SurroundedEvent.com.