Miley Cyrus' 'We Can't Stop' 'Narcissistic,' Enslaved to Sexuality View, Says Pop Culture Editor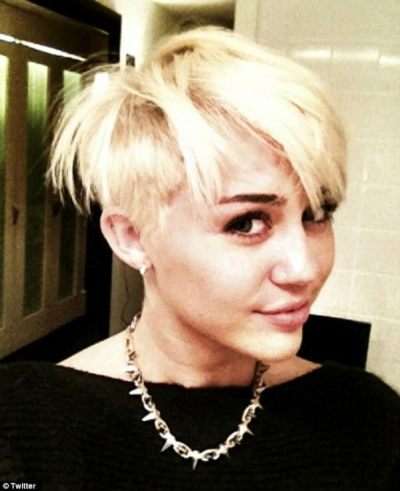 Miley Cyrus' latest music video, "We Can't Stop," may have received 33 million hits on YouTube this past week, but it also sets a new low for sexual deviance in pop culture and contradicts her Christian upbringing.
"Throughout the song, Miley gyrates disgustingly, kisses a female doll, constantly shakes her hiny, and makes tasteless facial expressions," writes Anna Maria Hoffman, editor of the youth culture blog Counter Cultured.
"I think the video really captures the sentiment in the song," Adam Holz, senior associate editor at Focus on the Family's pop culture review site Plugged In, told the Christian Post.
Holz quoted some of the lyrics: "It's our party we can do what we want/we can say what we want/we can love who we want/we can kiss who we want."
"Basically, she's describing a place where there's no limits and no rules," Holz explained. "Miley's definition of freedom is nobody can tell her what's wrong."
On Plugged In, he writes, "She's at a party where everyone is drinking, taking E, snorting coke, dancing like strippers, looking for a casual hook up and generally raising their fists in the face of curmudgeons who might question the wisdom of those choices." With stunning – and disturbing – clarity, the video portrays just that.
"It's a wild, orgy-like party," Holz said in the interview. "We see Miley in a variety of sexual poses."
More than anything, he described Miley's attitude as childish, while "real maturity says there are limits, there are responsibilities."
"I've got three children who are two, four, and six," Holz explained. "Miley sounds like a four-year-old, whining 'this is our house, you're not the boss of me!' Although the stakes are much higher."
He delved into the ideas behind the video. "With any form of entertainment, we need to ask the worldview questions – what is right and good and normal and acceptable," he said. Describing Miley's worldview, he added, "it's existentialist and it's very narcissistic. Miley's world starts and ends with Miley."
Holz warned that, even if they don't realize it, teens who watch videos like this will be affected. "Any time you have a steady diet of those ideas," he explained, "it shapes the way you see the world and the way you live."
Nevertheless, he encouraged parents not to flee from these issues and to discuss pop culture with their children. "Parents have an opportunity to model critical thinking," he said. "Especially with kids in their middle to late teens" they should "sit down and discuss what Miley's saying here."
Holz argued that Cyrus' view of freedom fits "in license territory, not liberty territory." He cited Peter's first epistle, saying, "a man is a slave to whatever has mastered him. She and everybody else in the video are enslaved to a view of sexuality."
"I think scripture has a different set of ideals and understandings," he added.
Hold on, isn't this the same Miley Cyrus who played the innocent Hannah Montana, was baptized in 2005, and who flaunted her purity ring in 2008? But as the Huffington Post reported, "the Disney alum pulls out all of the stops in the video, doing everything she can to distance herself from her 'Hannah Montana' past."
"Unfortunately, it's a pretty consistent story with child stars," Holz explained, mentioning Justin Beiber as another example. "It seems like, as they have more fame and admiration, and as they go into their teenage years, they have a tendency to fall apart" morally.
"I can't say what the outcome for her is going to be," he said, but "if I have a hope, it's that at one point she was exposed to the Gospel and to truth and that might bear fruit later on."
Despite this negative outlook, Holz did mention a star who has matured. In her most recent album Havoc and Bright Lights, Alanis Morissette dealt with "issues in marriage." "It really seems like she woke up," he said.
"Her songs in 1995 were graphic, they were sexual, they were angry." But "she's in her late 30s or early 40s now, and she's really grown up." Morissette is 39.