Minn. Gov. Signs Gay Marriage Bill; Some Brace for God's Wrath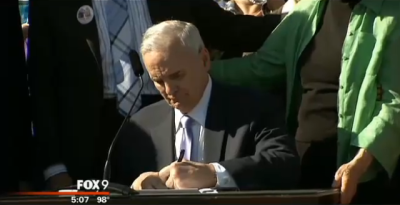 Democratic Gov. Mark Dayton signed the Freedom to Marry bill during a ceremony held on the state capitol steps on Tuesday, making Minnesota the 12th state to legalize same-sex marriage, following Delaware and Rhode Island that also legalized homosexual marriage during the last two weeks.
Votes in the Minnesota legislature were close, but on Monday the Senate passed the measure by a 37-30 vote, preceded by a 75-59 vote in the House on May 9.
"What a difference a year and an election can make in our state," Dayton said about the law that will go into effect on Aug. 1, and will also recognize the marriages of same-sex couples who wed outside of the state.
Despite the hundreds or even thousands of people reported to have flocked to the twin-cities capital to celebrate "Freedom to Marry Week," many in the state are alarmed by the legislature's decision, including author and national radio host Jan Markell, the president and founder of Olive Tree Ministries, a messianic Jewish ministry.
"I'm fearful of God's judgment on our state," Markell told The Christian Post on Friday. "We are the occult capital, and next to Dearborn, Mich., we are the Islamic capital. The state is very liberal, practically a socialist enclave."
"Not all of our politicians are radical, it's just that there are not enough," said Markell, who's also concerned about how the legislation is going to impact florists and other business owners whose religious beliefs would be trampled on if they were forced to provide services to homosexual couples.
During the governor's public signing ceremony, some Minnesota residents wore wedding gowns and others brought their children along to witness the event. Sara Pipin, a supporter of same-sex marriage, said she was happy her daughter was part of the occasion.
"I'm so happy that when my daughter grows up, if she decides she wants to love a woman that she gets to get married. And I want her to grow up with an open mind. So if you put her in front of stuff like this, she won't have too many biases in life," said Pipin to KMSP-TV.
Dayton told the politicians gathered around him that last year, they didn't believe same-sex marriage was going to pass the legislature. He then spoke about the Declaration of Independence and 14th Amendment to the Constitution, and criticized the founders for having "bold aspirations, but a bad implementation. They wrongly denied those equal rights and protections to women, African-Americans … they also left out LGBT men and women," he said.
In addition to Rhode Island and Delaware, Iowa, Connecticut, Maine, Maryland, Massachusetts, New Hampshire, New York, Vermont, Washington, and the District of Columbia have legalized same-sex marriage.