Model Leads Anti-Cosmo Campaign; Says Magazine Has 'Devil' All Over It
Former fashion model Nicole Weider is leading a Change.org campaign demanding that Cosmopolitan Magazine be sold in a non-transparent wrapper to adults, in order to prevent children from buying and reading "filthy" material.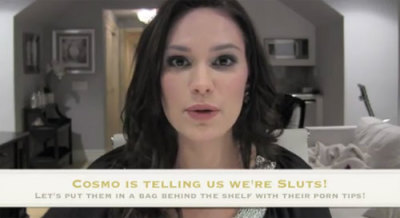 The petition has already gained nearly 18,000 signatures since its launch. Weider hopes to get the attention of the magazine's biggest advertisers and the Federal Trade Commission chairman.
"I have girls writing me letters how Cosmo has negatively affected them," Weider told The Christian Post. She said he has received over 200 letters from girls about pressure they feel from the magazine to have sex at a young age.
One of the biggest problems young girls face today is "the pressure to be sexual and sexy," she lamented to CP. She believes Cosmo is encouraging girls to prostitute themselves.
"With our Change.org petition, we simply ask that the magazine admit its content is not appropriate for young girls, stop putting teens on the cover and put the magazine in a non-transparent wrapper. It's that simple. If you aren't marketing to teen girls, then this request shouldn't be an issue."
Weider, who is now an outspoken Christian, started the anti-Cosmo campaign because she says the No. 1 selling women's magazine is actively targeting minors. To spotlight this, Weider pointed out that they most recently featured 17-year-old Dakota Fanning on this month's cover, right alongside a cover line, "Too Naughty to Say Here. But You Have to Try This Sex Trick."
Disney favorite 19-year-old Selena Gomez has also been reported as the cover model on an upcoming issue. Weider asks, "If the magazine is truly not targeting an underage audience, why would it put teen heroines on the cover?"
Model Nicole Weider Takes on Cosmopolitan Magazine
She also cited the magazine's new 2012 design, featuring less text, bigger font and brighter colors as proof that it is targeting young girls.
Overtly adult content in magazines requires that publications be sold in non-transparent wrappers and only to consumers who are over the age of 18. Yet Cosmo, with cover articles featuring graphic sexuality and sex tips, claims that its publication is targeted to readers who are of age.
Weider explained, "In recent issues the editors of Cosmo have urged their readers to sext, participate in anal sex, accept cheating boyfriends, have public sex, try three-somes, and visit pornographic websites with the URLS conveniently provided. This subject matter should not be available to minors."
Expressing frustration with the magazine, she said on her website, "As most of you know I'm a strong Christian; I really believe in God and I also believe in the devil and I believe in the enemy. This magazine has the devil written all over it because he wants to kill and destroy young girls' hearts and minds and cosmopolitan is just a vessel for that."
She said she wants Cosmopolitan to take responsibility for their actions. "If they are going to print sexually explicit articles and images, it should not be marketed and sold to kids. It's that simple," she said in a released statement.
The American Psychological Association's 2010 study, titled "Report of the APA Task Force on the Sexualization of Girls," suggests that the proliferation of sexual images of girls in the media is harming and impeding healthy development, self-image and body-image, and is now linked to common mental health problems including eating disorders, low self-esteem and depression.
The campaign began after Weider bought a copy of the magazine and was shocked at the pornographic material in the issue. "I started thinking about my teenage siblings and was horrified that their age-group had easy access to this graphic material," she said.
Initially, she made a YouTube video and posted it on her website for Christian teens, www.projectinspired.com. The response from young girls who had been negatively affected by the publication was so great that she created the change.org petition, urging that Cosmopolitan make itself available to adults only.
Weider said she has contacted the chairman of the FTC, John Leibowitz, and received a letter from his office stating they will look into the issue and start an investigation only when they feel it's a "threat" to society.
On a video from her website, Weider noted that FTC Secretary Donald Clark has reached out to her and said he has contacted Cosmo Editor-in-Chief Kate White, asking for details of the magazine's business practices. He also requested that White write a letter to Weider, but she has yet to receive anything from the magazine editor.
In the meantime, she urges girls, "Do not listen to anything they (Cosmo) are telling you. It is telling you to … give it up right away, do all these freaky, kinky sex acts where a guy will not respect you anymore if you do them ... Just don't read it!"
On the Web: Anti-Cosmo petition