Mormon Glenn Beck Tells Christians Backing Trump to Read End Times Bible Verse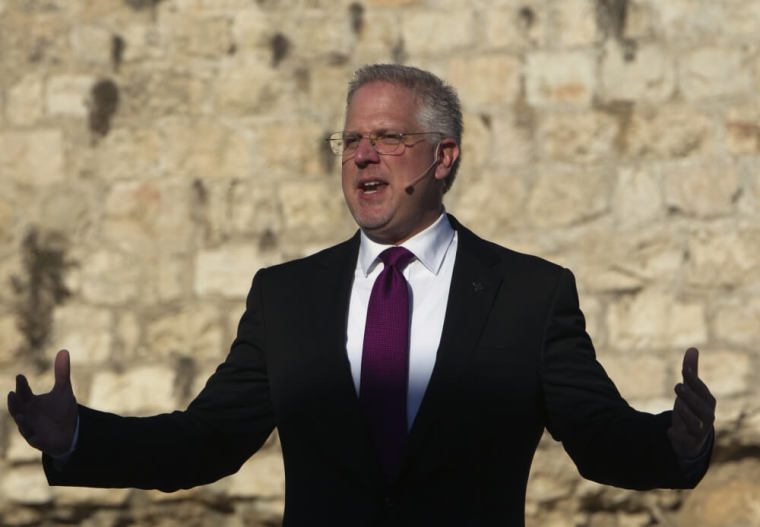 Mormon political commentator Glenn Beck has strongly criticized conservative Christians who are still backing Republican presidential nominee Donald Trump despite the recently released video exposing lewd comments against women, and argued that believing Democratic nominee Hillary Clinton is worse is not an excuse.
"You chose to support him. Many while we still had some of the best choices the right has had in my lifetime. It is that choice that we will all regret in the end. What are you going to say at the judgment seat? 'Lord, but Hillary?'" Beck wrote on Facebook on Sunday night ahead of the presidential debate.
He continued: "It sickens me to read the posts from 'conservative Christians.' The very same people who lectured the left about Bill Clinton. I thought character mattered. Does it still? Or is that just for Democrats?"
Beck, who has been one of the most vocal critics of Trump, focused his outrage on the recently released comments that Trump made in 2005 where he uses lewd language to describe his attempts to sexually assault a woman.
The tape has made a number of other conservatives, including renowned theologian Wayne Grudem, take back their endorsement of the Republican nominee.
Beck argued that those who are staying to support Trump will try to justify their position by arguing that electing Clinton as president would be even worse for America, but he in turn challenged them to read 2 Timothy 3 as found in the Bible, which states:
"There will be terrible times in the last days. People will be lovers of themselves, lovers of money, boastful, proud, abusive, disobedient to their parents, ungrateful, unholy, without love, unforgiving, slanderous, without self-control, brutal, not lovers of the good, treacherous, rash, conceited, lovers of pleasure rather than lovers of God — having a form of godliness but denying its power. Have nothing to do with such people."
The Mormon commentator suggested that Trump is being included in this category of people that Christians are urged to stay away from, and said that no amount of arguments about who is worse change the meaning of Scripture.
Beck also argued that refusing to vote for Trump is not the same thing as refusing to show forgiveness for what he did and said.
"It sickens me the twisting of forgiveness. To somehow be told that rejecting him as unfit for the highest and most important job in the world, shows that we are not following Christian principles is a deep self delusion," he argued.
Beck encouraged conservatives who are afraid of a Clinton presidency to stand together no matter the difficulties that are to come.
"We know how to fight the Clinton Machine. We can unite on that. We can stop her. Yes, it will be 'terrible times,' but we will survive and if we stand together and stand behind what we all know in our heart is right spiritually we can be on the side of God," he advised.
Other conservatives, such as evangelical leader the Rev. Franklin Graham, who have not said who they will be voting for, condemned Trump's 2005 comments as indefensible as "the godless progressive agenda of Barack Obama and Hillary Clinton."
"I have said it throughout this presidential campaign, and I will say it again — both candidates are flawed. The only hope for the United States is God," wrote Graham, who is the president of Samaritan's Purse and the Billy Graham Evangelistic Association.
"Our nation's many sins have permeated our society, leading us to where we are today. But as Christians we can't back down from our responsibility to remain engaged in the politics of our nation," he added.