Muslim teen in Texas arrested for bringing homemade clock to school gains support from President Obama, Mark Zuckerberg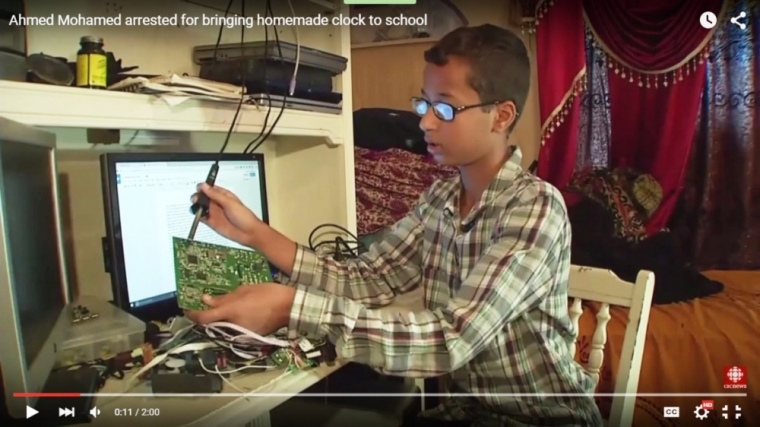 The Muslim teen in Texas who was arrested on Monday for bringing a homemade clock to school has gained support from the public and even from high-profile individuals.
Ahmed Mohamed, 14, was arrested and suspended when he brought his homemade electronic clock to MacArthur High School to impress his teacher — a move that has been widely slammed as a form of religious discrimination. However, encouragement and support poured out for the Muslim teen, and even U.S. President Barack Obama, Facebook chief Mark Zuckerberg, and NASA scientist Bobak Ferdowski echoed the sentiment, according to Fox News.
Ahmed Mohamed was handcuffed when he brought the homemade clock to school because the officials at the Texas school thought it was a bomb. The incident quickly became viral on social media and Mohamed's supporters have tweeted the hashtag #IStandWithAhmed over a million times by Wednesday evening.
There were many netizens who lambasted the cops and the school officials for "overreacting" because the boy is a Muslim. However, MacArthur High School's officials denied that the teen's religion was a factor in the suspension and arrest.
The Islamic Association of Northern Texas said it did not blame the school for what happened; rather, the group said the U.S. political leaders are at fault because they have harbored and spread anti-Muslim sentiment in the country, said an Associated Press report published by The Roanoke Times.
President Obama posted a message on Twitter supporting Mohamed and calling his clock "cool." The U.S. leader also said kids like him who enjoy science make the country great. In the wake of what happened, the White House invited Mohamed to meet top scientists during an astronomy night next month.
Zuckerberg also posted a status on Facebook conveying his encouragement for Mohamed's craft.
"Having the skill and ambition to build something cool should lead to applause," Fox quotes Zuckerberg's statement. "Ahmed, if you ever want to come by Facebook, I'd love to meet you. Keep building."
Bobak Ferdowski also chimed in and said he probably would not be working at NASA if what happened to Mohamed also happened to him. The science planner engineer, who is working on the Cassini space probe to Saturn, told the Muslim teen to give him a call a few years from now because NASA could "always use smart, curious & creative people."
The Muslim teen's father, Mohamed Elhassan Mohamed, told the press that he was touched by the outpouring of support. He said Ahmed Mohamed has shown prowess in electronics and is the one who repairs their phones and clocks.