New Accuser Says Roy Moore Sexually Assaulted Her at 16: 'I Thought That He Was Going to Rape Me'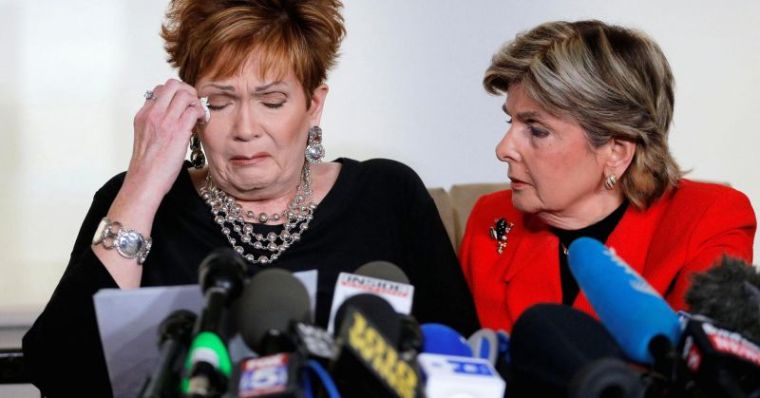 Beverly Young Nelson, an Alabama woman celebrity attorney Gloria Allred calls "brave," became the latest woman on Monday to accuse Southern Baptist Judge and Republican nominee for Senate in Alabama Roy Moore, of sexually assaulting her when she was just a minor.
In a statement she shared at a press conference in New York City, Nelson said Moore groped her and tried to force her to perform oral sex when she was just 16.
She said she first met him when she was 15 years old, working as a waitress after school at a local restaurant. She said Moore was a regular customer who complimented her looks and frequently pulled her hair whenever she passed him even though she "did nothing to encourage this behavior."
She said at the time she had a boyfriend and was "not interested in having a dating or sexual relationship with a man twice my age."
In another encounter with Moore after she had turned 16, Moore offered her a ride home but instead of taking her home he drove to the parking lot of a restaurant where he allegedly attacked her in his car.
"Mr. Moore began groping me, putting his hands on my breasts. I tried fighting him off, while yelling at him to stop, but instead of stopping he began squeezing my neck attempting to force my head into his crotch," Nelson said.
"I continued to struggle. I was determined that I was not going to allow him to force me to have sex with him. I was terrified. He was also trying to pull my shirt off. I thought that he was going to rape me. I was twisting and struggling and begging him to stop. I had tears running down my face," she added.
Nelson explained that her decision to come forward with her story now isn't politically motivated as both she and her husband supported Donald Trump for president.
"It has everything to do with Mr. Moore's sexual assault when I was a teenager," Nelson said. "He no longer has any power over me and I no longer live in fear of him."
Allred said her client is "willing to testify under oath" to the claims she made on Monday and called for the Senate Judiciary Committee to hold a public hearing where Nelson would voluntarily appear and testify before lawmakers on the incident, CBS News said.
In a new campaign email to supporters cited by CBS, Moore's senate Campaign Chairman Bill Armistead called Allred a "sensationalist leading a witch hunt" against his candidate.
"She is only around to create a spectacle. Allred was the attorney who claims credit for giving us Roe v. Wade which has resulted in the murder of tens of millions of unborn babies," the statement said.
"This is a witch hunt against a man who has had an impeccable career for over 30 years and has always been known as a man of high character. Let it be understood: the truth will come forward, we will pursue all legal options against these false claims and Judge Moore will be vindicated," the statement added.
Nelson's testimony comes in the wake of a recent report in The Washington Post in which four women alleged that Moore pursued them sexually when they were teenagers. The youngest of that batch of accusers said she was just 14 when a 32-year-old Moore initiated sexual contact with her in 1979.
While Moore has continued to deny the claims, Senate Majority Leader Mitch McConnell said Monday that "I believe the women, yes," and "I think he should step aside," CNN reported Monday.
Alabama is expected to hold a special election on Dec. 12 to fill the Senate seat vacated by Attorney General Jeff Sessions.