New Bishop for Syrian Christians Brings Hope Following Genocide, Over 330,000 Deaths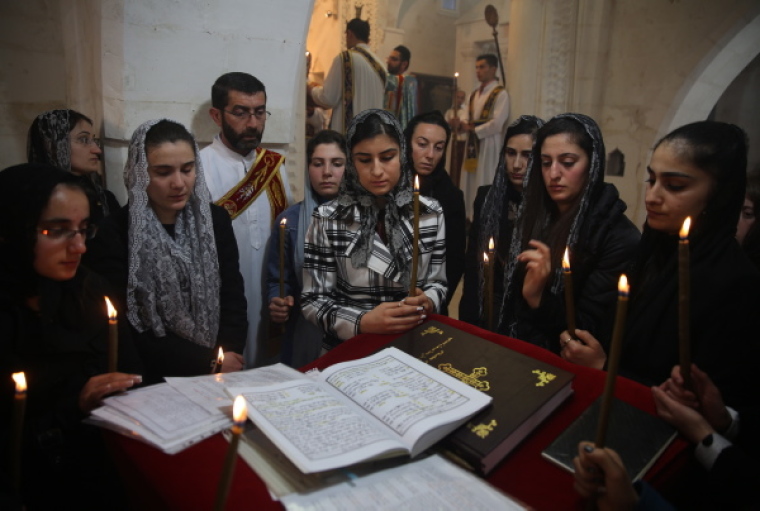 Syriac Orthodox Christians in the northeastern city of Hasakeh celebrated on Saturday the inauguration of Archbishop Maurice Amseeh, giving the community a bishop for the first time in four years, since the last one left the country.
Christians have been the subject of a genocidal campaign by the Islamic State terrorist group, which has killed, raped and kidnapped Yazidis and other minorities as well.
Over 330,000 people have also been killed in Syria's six-year long civil war, which has further decimated the population, forcing millions to flee as refugees.
As AFP reported on Sunday, Amseeh's appointment has given fresh hope to the struggling Christians that rebuilding their community is possible.
"It's true that many have left, but we're still here, and what happened today is the proof that we're still here in this country and that we will stay," said 23-year-old student Jenny Hakop.
Amseeh, whose official mandate extends to the Syriac Orthodox community throughout the Jazeera and Euphrates region, said that he is looking forward to visiting the neighboring Deir Ezzor province after it is freed from IS control.
"As soon as Deir Ezzor is freed from terrorism, I will make a blessed trip there to start rebuilding both buildings and people," the bishop said.
Russian Orthodox leaders, meanwhile, have been urging for deeper unity among Christians in the resistance against IS.
Metropolitan Hilarion Alfeyev said the Russians hope to foster "common projects aimed at supporting the brothers and sisters who live such tragedies" in a recent interview with Italian newspaper Sole 24 Ore.
Alfeyev expressed his hopes that the Roman Catholic Church and the Russian Orthodox Church will come together to aid Christians throughout the Middle East that have been affected by the genocide.
"In these past years, unfortunately, the problem of persecution and discrimination against Christians by extremists in various regions of the world has become more present," Alfeyev said.
"It's a problem that deeply concerns both the Russian Orthodox Church and the Holy See, and that pushes us to unite our forces in search for a solution," he added.
The United States detailed the atrocities suffered by Christians and others in the State Department's International Religious Freedom Report last week.
Secretary of State Rex. W. Tillerson warned that IS "has and continues to target members of multiple religions and ethnicities for rape, kidnapping, enslavement, and death. ISIS is clearly responsible for genocide against Yezidis, Christians, and Shia Muslims in areas it controlled."
Trump commented: "[W]e pray for the strength and wisdom to achieve a better tomorrow – one where good people of all faiths, Christians and Muslims and Jewish and Hindu, can follow their hearts and worship according to their conscience."