New Shooting in Paris Leaves Police Officer Dead; France in Mourning After Satirical Newspaper Terror Attack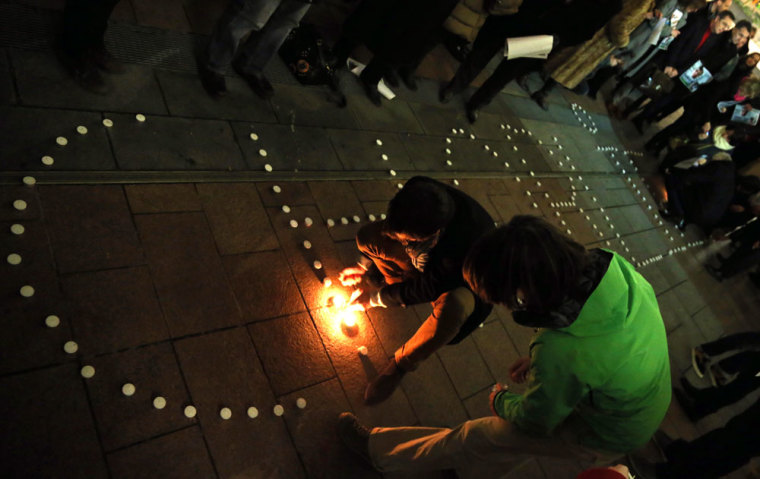 A shooting on Thursday in Paris has left a police officer dead, only a day after two gunmen who are still at large stormed the offices of satirical newspaper Charlie Hebdo and killed 12 people. It is unclear whether the two incidents are related, though police have begun identifying and arresting suspects.
The Associated Press reported that an unidentified assailant shot dead a police officer on the edges of the French capital early on Thursday, and injured a street sweeper before fleeing the scene.
French Interior Minister Bernard Cazeneuve said that Thursday's police shooter remains at large, though he did not indicate whether the incident is connected to the manhunt for the two armed gunmen who killed 12 people and left 11 wounded at Charlie Hebdo's offices on Wednesday.
"There was an officer in front of a white car and a man running away who shot," said witness Ahmed Sassi, noting that the attacker wore dark clothes but no mask.
"It didn't look like a big gun because he held it with one hand," he added.
French President Francois Hollande, who described the newspaper shooting as a "terrorist attack," announced that Thursday will be a national day of mourning in respect for the victims.
French flags are set to fly at half-mast across the country for three days. The bells of Notre Dame Cathedral tolled across Paris on Thursday for the victims, while large crowds gathered to mark a moment of silence.
Hollande said that the victims in the shooting are "heroes" who had "died for their idea of France."
"Our best weapon is our unity. Nothing should oppose us, divide us, to separate us," Hollande added.
"Freedom is always stronger than barbarism."
Investigators are still gathering information on who was involved in Wednesday's attack, and according to CNN have already arrested several people. Brothers Cherif Kouachi, 32, and Said Kouachi, 34, have been identified as the prime suspects based on an ID card left behind in a car believed to have been used by the attackers, but they remain at large.
"They are still free, they are heavily armed, so we can be afraid of further violence," French Prime Minister Manuel Valls said.
The gunmen, who are said to have been speaking in fluent French, separated the men from the women and called out the names of the cartoonists they intended to kill, revealed Dr. Gerald Kierzek, who spoke with the survivors.
Investigators are looking into whether the Kouachi brothers had any connections with ISIS or other jihadist groups in the Middle East, where France has been aiding the U.S. led-coalition with airstrikes against terror targets.
Another suspect, 18-year-old Hamyd Mourad, reportedly turned himself over to the police on Wednesday after finding out he is being sought after.
Charlie Hebdo is largely believed to have been targeted for a number of drawings it had published depicting the Prophet Mohammed, a practice forbidden in the Muslim world. The caricatures had incited earlier incidents of violence against the newspaper, including in November 2011 its offices being hit by a fire-bomb.