NFL Hall of Famers React to Colin Kaepernick's Refusal to Stand for National Anthem in Public Protest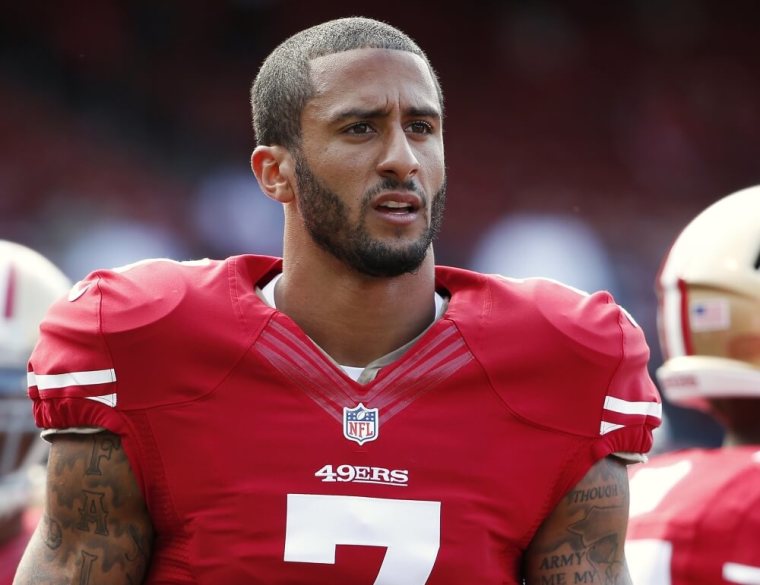 NFL stars and hall of famers are responding to San Francisco 49ers quarterback Colin Kaepernick's refusal to stand for the national anthem "until there is significant change in the country" by voicing either their support or criticism for his actions.
Last week, Kaepernick announced that he planned to sit during every performance of "The Star Spangled Banner" at NFL games to represent "people that are being oppressed." His comments, however, have upset some 49ers fans, one of whom posted a YouTube video of himself buring Kaepernick's jersey in response.
While more tactful in their approach, some of Kaepernick's peers also expressed their disapproval of his form of protest. One of those people is New Orleans Saints quarterback Drew Brees who is bothered by what he believes is Kaepernick's disrespect of the American flag.
"I wholeheartedly disagree. Not that he wants to speak out about a very important issue," Brees said, according to Yahoo sports. "No, he can speak out about a very important issue. But there's plenty of other ways that you can do that in a peaceful manner that doesn't involve being disrespectful to the American flag."
Jim Harbaugh, a former 49ers coach who's now with the University of Michigan, took to Twitter to say that while he doesn't oppose the quarterback's motivation, "it's his method of action that I take exception to."
Jerry Rice, the Hall of Fame NFL wide receiver, seemed to follow the same sentiments by tweeting: "Colin, I respect your stance but don't disrespect the flag."
Kaepernick, however, has received some support for his controversial protest that has made him a trending topic.
NFL Hall of Famer Jim Brown said he probably wouldn't do exactly what Kaepernick did, but he supports the QB.
"I listened to him and he makes all the sense in the world. He's within his rights and he's telling the truth as he sees it," Brown said. "I am with him 100 percent."
Seattle Seahawks cornerback Richard Sherman shared similar sentiments with Brown, supporting Kaepernick even though he disagrees with his method of protest.
"There are certain statistics that are put out there to make sure police profile certain people in certain neighborhoods, and that needs to change. So there is some depth and some truth to what he's doing," Sherman said, Yahoo sports reports. "I think he could have picked a better platform and a better way to do it, but every day they say athletes are so robotic and do everything by the book. And then when somebody takes a stand like that, he gets his head chopped off."
Both the NFL and 49ers organization released statements explaining that the QB is within his constitutional and league rights to refuse to stand for the national anthem. Still, Kaepernick has made it clear that he is not looking for people to approve of his protest and is prepared to lose supporters.
"I am not going to stand up to show pride in a flag for a country that oppresses black people and people of color. To me, this is bigger than football and it would be selfish on my part to look the other way," Kaepernick told the NFL. "There are bodies in the street and people getting paid leave and getting away with murder. I am not looking for approval. I have to stand up for people that are oppressed. ... If they take football away, my endorsements from me, I know that I stood up for what is right."
When asked if presidential candidates Hillary Clinton and Donald Trump had anything to do with his protest, Kaepernick said he felt they were a big problem with the nation.
" I mean, you have Hillary [Clinton] who's called black teens or black kids super-predators. You have Donald Trump who's openly racist," he told reporters. "I mean, we have a presidential candidate who's deleted emails and done things illegally and is a presidential candidate. That doesn't make sense to me, because if that was any other person, you'd be in prison. So what is this country really standing for?"
The biracial quarterback who was adopted into a white family has also been vocal about his Christian faith. He bears a tattoo of Psalm 18:39 on his throwing shoulder that reads: "You arm me with strength for battle."
Although he is now a backup quarterback who is overcoming injuries, Kaepernick was once the 49ers starter who led his team to the Super Bowl just three years ago.
"Just because you're in a situation you haven't been in before doesn't mean you have to feel pressure from it," he said during a Super Bowl media day in 2013, according to the New York Daily News. "[God] is always someone I lean on. My faith is something that always keeps my feet on the ground and makes me level-headed."