NFL Quarterback Philip Rivers Credits Jesus for 16-Year Marriage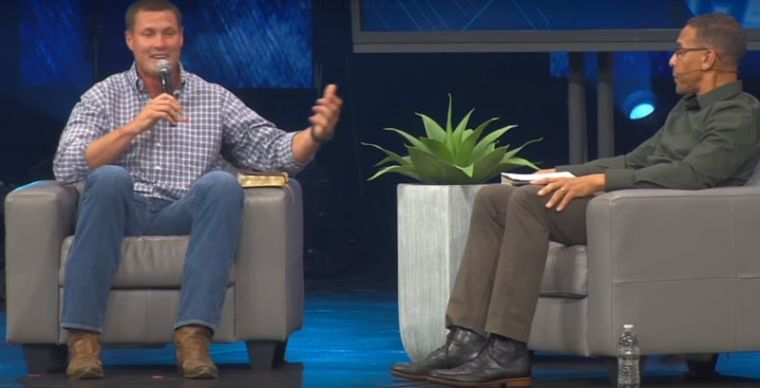 Los Angeles Chargers quarterback Philip Rivers says his foundation in Jesus Christ is what has enabled his 16-year marriage to succeed.
Rivers, 35, shared his testimony at Pastor Miles McPherson's The Rock Church in San Diego, California, on June 9. A part of Rivers' testimony was about his marriage, which began when he was 19 years old.
"I think that the center of our marriage and the foundation of our relationship was on Jesus — that is why it's worked to this point," Rivers, who shares eight children with his wife, told McPherson and the congregation.
"Remaining pure, being chaste, was very important to us," Rivers said. "Obviously there wouldn't be many other reasons to get married at that point. I didn't have a penny to my name."
Even before he became an NFL quarterback, Rivers said his faith had been an integral part of his life growing up that helped guide him when he was in college at North Carolina State. It was there that he began to develop a personal relationship with God.
"My faith has always been very important to me. When I went to college is really when it became my own," he explained. "I had to get up out of that dorm room and go to church, go to mass on Sunday. That's when I took ownership of my faith."
Rivers said his Catholic mother taught him about his family's faith starting at a young age. And in a previous interview with Life Teen, Rivers said he feels comforted by his faith wherever his goes.
"My wife had a lot to do with it. She's a convert and actually became Catholic the day before we got married. There's so many gifts from the faith to appreciate and it strikes people differently, but the one-ness of the Church wherever you are, Raleigh, San Diego, Alabama. Every place we were was home because the Catholic Church is the same everywhere," he said. "When we went to mass that first Sunday after moving to a new place, that was where we felt at home and were able to say, 'well, home is anywhere, it doesn't matter where we live because we have the faith.'"