Nick Vujicic Kicks Off '10,000 Hugs Stand Strong Tour' in NYC's Times Square (PHOTOS, VIDEO)
NEW YORK — Evangelist Nick Vujicic recently was in New York City to mark the release of his new book, Stand Strong with a hugging campaign in Times Square. Admirers from as far away as Chile and Australia lined up last week to hug and take photos with Vujicic, who has inspired millions around the globe with his story of overcoming physical limitations (without limbs) and bullying.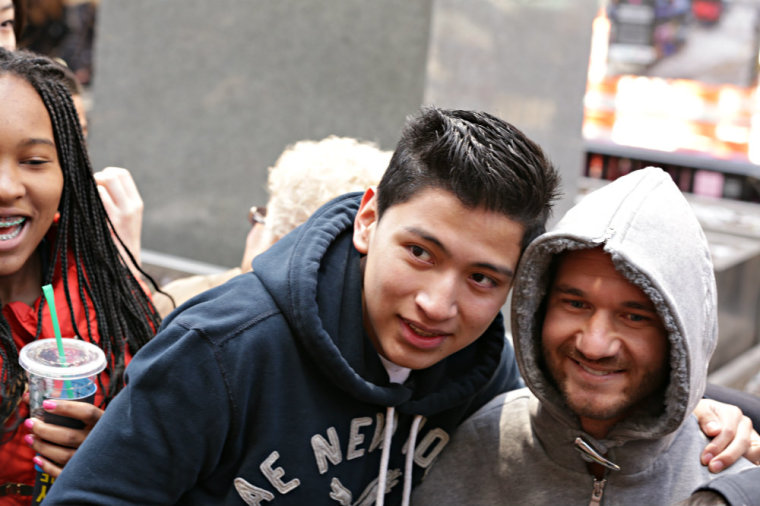 The 31-year-old married father released last week Stand Strong: You Can Overcome Bullying (and Other Stuff That Keeps You Down), in which he advises teens how to overcome bullying by embracing their self-worth and developing strong values, among other things.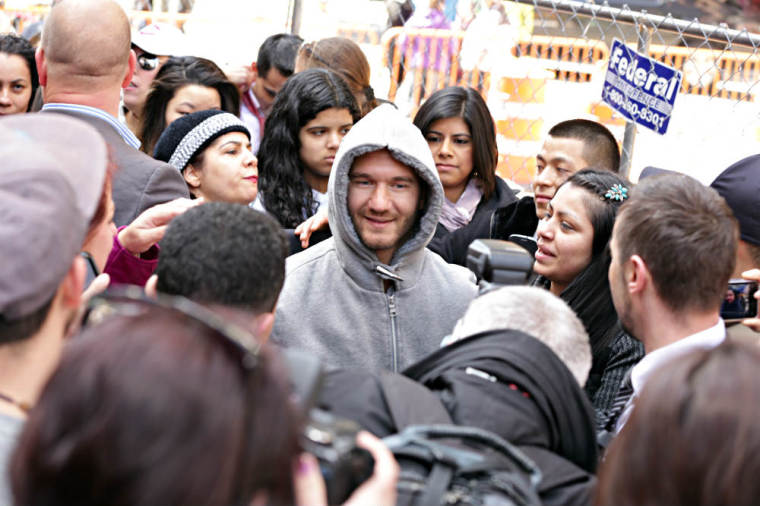 Vujicic, born with no arms and no legs, travels worldwide to share how he overcame the nightmare of bullying as a youth, an attempted suicide at age 10, and how faith in God affects his outlook on life, and eternity.
He recently told The Christian Post in an interview about Stand Strong:
"It depends on which crowd and where I'm at, but I always talk about faith, love and hope. The greatest hope is knowing that I'm not going to die, I'm going to live forever and my arms and legs are up there (heaven). I have a pair of shoes in my closet in case He says yes to me. I've seen blind people seeing, deaf people hearing, lame people walk. I've seen that stuff which is really cool. What I do know is that even if God doesn't give me arms and legs here on earth, I don't need them.
"I don't need a physical body that's healed. Even if I'm dying of cancer. If I don't die of cancer, I'll die in a car crash. If I don't die in a car crash, I'll die some other way. Either way, I'm a citizen of heaven passing through. The reason I have a positive attitude is because I'm healed. I'm healed to a point that I don't need stuff. I need peace, I need purpose, I need forgiveness of my sins. I'm not a person to say that all paths lead to heaven, because how good is good and how bad is bad?
"Jesus said, 'I am the way the truth and the life.' Knowing that I'm now going to be living forever, the fruit of that is a positive attitude. Now does that mean that I don't cry? No, I still cry. I still have my ups and downs. But with faith, I remind myself of the promises, knowing that I can stand strong in the truth. The truth that I'm not a mistake. The truth that I'm fearfully and wonderfully made. The truth that everyone is valuable just the way we are."
Find out more about Vujicic at his Life Without Limbs ministry website: http://www.lifewithoutlimbs.org.
Watch a "CP Insider" video on Nick Vujicic's "10,000 Hugs Stand Strong" event in New York City's Times Square in the player: