'Nightcap' Season 2 Episode 4: Julianne Moore, Barbara Corcoran, and Donny Deutsch to Guest Star in 'Single White Staci'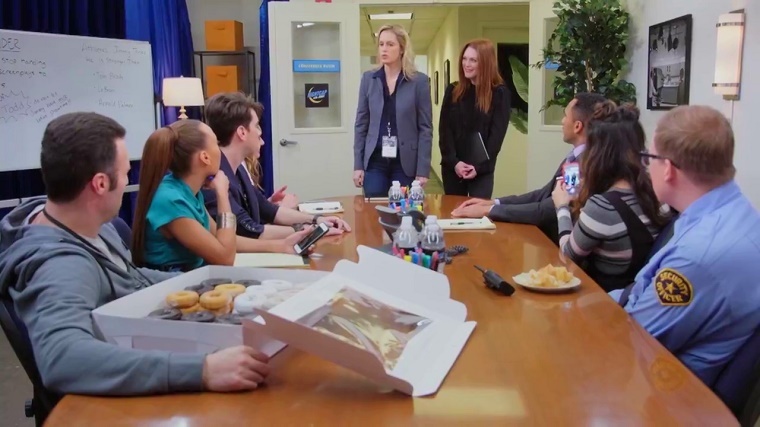 Academy Award-winning actress Juliann Moore proves just how passionate she is about her craft on the next episode of Pop TV's workplace comedy series, "Nightcap."
The previous episode sent head talent booker Staci (Ali Wentworth) on a desperate quest to prove that there is some goodness in her heart after her failure to take action on a woman stealing from a homeless boy was caught on Juju Chang's hidden camera show. But her efforts took him in too deep when she consequently found herself caught in a dangerous drinking game with Kelly Rutherford and Brooke Shields.
But a new day is another chance for a brand new start, and on the next episode titled "Single White Staci," the talent booker will especially be forced to be on her best behavior when actress Julianne Moore comes to the office wanting to shadow Staci in preparation for a role she's playing in an independent film.
Will Moore's shadowing cause Staci any trouble, or will spending a day with the actress eventually lead to some surprising discoveries?
Aside from this, Staci will also be going on an awkward lunch date with advertising executive and television personality Donny Deutsch, who is seen flexing his muscles in the official trailer for a photo that will prove to Staci's friends that she has indeed gone out with The Donny Deutsch.
Additionally, syndicated columnist and television personality Barbara Corcoran is also shown in one scene claiming to be "everybody's favorite shark." Is she going to be the next special guest on "Nightcap with Jimmy?" If so, how will this particular episode of the late-night show turn out?
Other A-list celebrities that have appeared and are still expected to appear on the show's second season include Julianna Margulies, Alex and Hilaria Baldwin, David Hasselhoff, Dr. Oz, and Debra Messing, who previously had a successful appearance in season 1.
"Nightcap" season 2 episode 4 airs on Wednesday, June 21, at 8 p.m. EDT on Pop TV.