Nikki Haley Warns North Korea Trump Isn't 'Playing Around'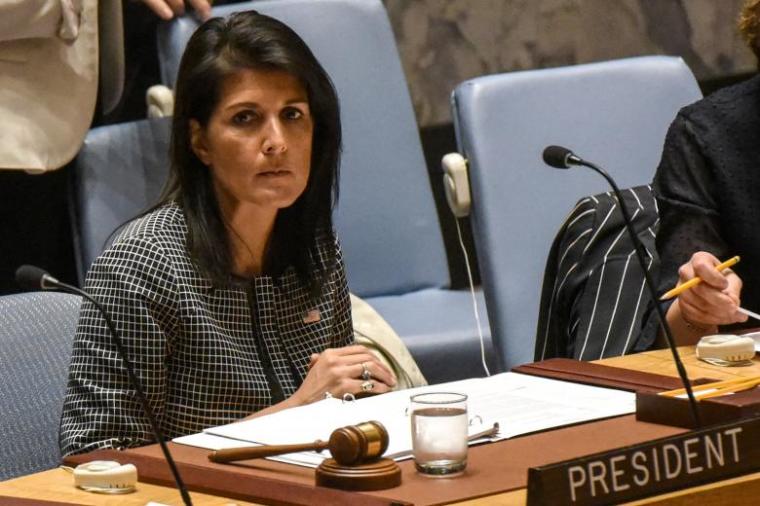 The day after the U.N. Security Council slapped new sanctions on North Korea over its nuclear weapons program, U.S. Ambassador to the United Nations Nikki Haley said Pyongyang should realize "we are not playing anymore."
"It is time for North Korea to realize, we are not playing anymore," Haley said on Fox News on Sunday, according to The Hill. "A third of their trade exports have been hit (due to sanctions), and we basically gave them a kick in the gut with a billion dollars of sanctions that they are going to begin to feel right away."
Asked whether the U.S. would resort to "troops on the ground" in North Korea if such a situation arises, Haley said, "We hope that we don't have to do anything, but all options have always been on the table and will continue to be on the table."
The sanctions restricts North Korea's exports of coal, iron, iron ore, lead, lead ore and seafood as well as limits the number of North Koreans permitted to work abroad. They also restrict countries from entering into new joint ventures with North Korea or investing in current ones. Further, the resolution adds North Korea's primary foreign exchange bank and other entities as well as nine people to the U.N. blacklist.
Last month, when North Korea claimed another successful test of an intercontinental ballistic missile to show its ability to strike the United States, America also flew two supersonic B-1B bombers over the Korean peninsula and called on China, Japan and South Korea to do more about Pyongyang's missile tests.
"The time for talk is over. The danger the North Korean regime poses to international peace is now clear to all," Haley said in a statement at the time.
The U.S. Missile Defense Agency also announced at the time that the United States was able to shoot down a medium-range missile in the latest test of its THAAD missile defense program, which is aimed at guarding the country against potential threats, including from North Korea and Iran.
The test was planned before the current tensions with North Korea, however. Gen. Terrence J. O'Shaughnessy, U.S. Pacific Air Forces commander, said in a statement that America and its allies are capable of using "rapid, lethal and overwhelming force against North Korea," if such a situation arises.
According to Western experts, the missile could have been capable of reaching as far into the country as Denver and Chicago.
U.S. President Donald Trump issued a statement, saying, "By threatening the world, these weapons and tests further isolate North Korea, weaken its economy, and deprive its people. The United States will take all necessary steps to ensure the security of the American homeland and protect our allies in the region."
Trump also criticized China, saying he was "very disappointed."
"NOTHING for us with North Korea, just talk. We will no longer allow this to continue," he tweeted.
However, on Sunday, Chinese Foreign Minister Wang Yi spoke to reporters about his talks with his North Korean counterpart Ri Yong Ho on Pyongyang's efforts to develop nuclear arms. He said Ri had a chance to listen to the views of others that might influence North Korea to make the right decision in the future, according to Bangkok Post.
He also said North Korea's position remains unchanged after the sanctions.
North Korea is also among the worst countries in the area of religious freedom.
At a recent Christians Capitol Hill briefing, a prominent human rights activist said Christians in North Korea are facing persecution that is likely "on par" with the level of persecution that the early Christian church faced under Roman emperor Nero.
"As the tragedy of Korean separation continues after almost seven decades, one remembers ... that the northern half of the Korean Peninsula was once of the cradle of the Korean Presbyterian Church," Greg Scarlatoiu, the executive director of the Committee for Human Rights in North Korea said at the hearing in May. "Prior to the Communist takeover, the capital city of Pyongyang used to be known as the 'Jerusalem of the East.' In North Korea, Christianity was once a way of life with two churches on the same street corner [being] a common sight."