Oklahoma Gov. Mary Fallin Blasts Upcoming Satanic Black Mass as 'Disgusting Mockery of Catholic Faith'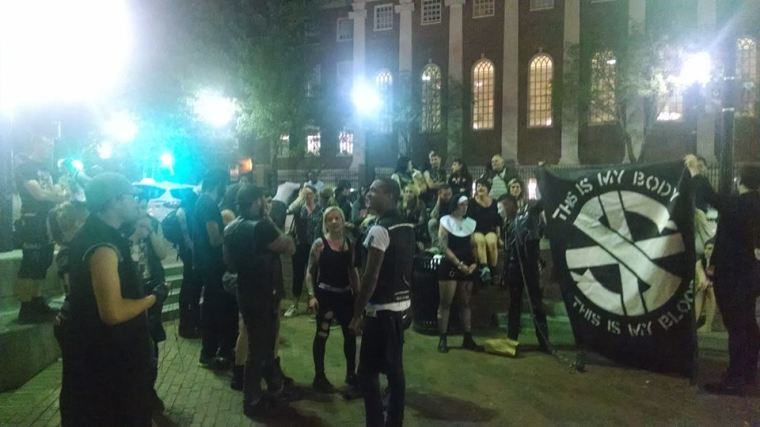 Oklahoma Governor Mary Fallin has condemned an upcoming satanic black mass in Oklahoma City in September as a "disgusting mockery of the Catholic faith," joining thousands of Christians and the city's Roman Catholic archbishop who have voiced their deep concern over the scheduled event.
"This 'black mass' is a disgusting mockery of the Catholic faith, and it should be equally repellent to Catholics and non-Catholics alike," said Fallin in a statement on Monday.
"It may be protected by the First Amendment, but that doesn't mean we can't condemn it in the strongest terms possible for the moral outrage which it is. It is shocking and disgusting that a group of New York City 'satanists' would travel all the way to Oklahoma to peddle their filth here. I pray they realize how hurtful their actions are and cancel this event."
The black mass, which is scheduled for Sept. 21 at the Oklahoma City Civic Center, is being organized by local satanist Adam Daniels, who identifies himself as the high priest of a local satanic group.
Daniels has said that a satanic mass contains similar themes to a Catholic mass, but participants worship Satan instead of God.
An online petition started by the American Society for the Defense of Tradition, Family and Property has almost met its goal of 50,000 signatures in opposition of the planned event.
"The sole purpose of the black mass is to attack God, the Catholic mass and the holy eucharist in a most obscene, indecent and hateful manner. Satanists typically steal a consecrated host from a church to desecrate in unspeakable ways," John Ritchie, TFP's student action director has said.
Archbishop Paul Coakley has also asked city organizers to stop the black mass from taking place.
"We're astonished and grieved that the civic center would promote as entertainment and sell tickets for an event that is very transparently a blasphemous mockery of the mass," Coakley said in a previous statement.
"The black mass that is scheduled for the civic center in September is a satanic inversion and distortion of the most sacred beliefs, not only of Catholics, but of all Christians."
The Dakhma of Angra Mainyu group explains on its website that the event has been "toned down" to comply with city law.
"The black mass being performed at the Okc Civic Center has been toned downed as to allow it to be performed in a public government building. The authenticity and purpose of the black mass will remain in tact while allowing for slight changes so that a public viewing can occur without breaking Oklahoma's laws based on nudity, public urination, and other sex acts," the website explains.
Oklahoma City officials have insisted that the Civic Center is a public building, and any group that agrees to abide by all laws and city ordinances must be allowed to lease it under the First Amendment.
Coakley has found fault in such reasoning, however, and told FoxNews.com on Friday: "If someone had come to them to rent the civic center to stage a burning of the Quran or to hold an event that was blatantly and clearly anti-Semitic, I think they might find a way to prevent it."
"Not all speech is protected if there is hate speech and it is intended to ridicule another religion," he added. "I don't believe it is a free speech matter."
Kristy Yager, director of public information for Oklahoma City's city manager, has said that a police officer will be assigned to the event.
"If there's a law broken we will be there," Yager noted, and revealed that she had received thousands of emails and phone calls urging the event's cancellation.
"We empathize, we understand where people are coming from," Yager said. "There's just nothing we can do without bringing a lawsuit which we would surely lose."