Oscar Pistorius Sentenced to 5 Years in Prison for Killing Girlfriend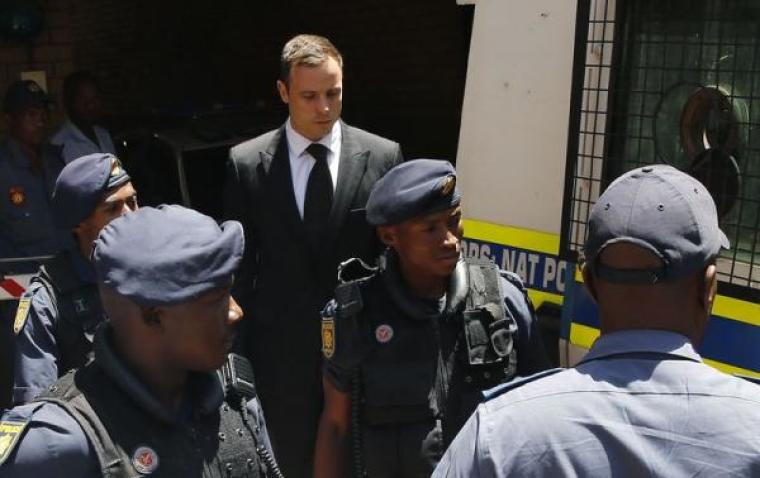 South African Olympian athlete Oscar Pistorius was sentenced to five years in prison on Tuesday for unintentionally killing his girlfriend Reeva Steenkamp in an incident on Valentine's Day 2013. The Paralympic sprinter, who in September was cleared of murder charges, was also handed a three-year suspended sentence for a firearms charge.
"It would be a sad day for this country if an impression were created that there is one law for the poor and disadvantaged, and one law for the rich and famous," Judge Thokozile Masipa said as she read out her decision. She added that it was difficult to arrive to a decision that was "fair and just to society and to the accused."
The 27-year-old athlete wiped his eyes as he listened to his sentencing, before being led to the holding cells beneath the High Court in Pretoria, Reuters reported.
Steenkamp died on the morning of February 14, 2013, when Pistorius shot and killed her through the bathroom door of his home in Pretoria. The athlete has maintained throughout the entire trial that he thought he was shooting at a robber hiding in the bathroom, and not his girlfriend.
"Clearly he did not subjectively foresee this as a possibility that he would kill the person behind the door, let alone the deceased, as he thought she was in the bedroom," Masipa previously said.
Pistorius, who was convicted of culpable homicide, is expected to serve about 10 months behind bars, BBC News noted.
The judge said that "a non-custodial sentence would send the wrong message to the community. On the other hand, a long sentence would also not be appropriate either, as it would lack the element of mercy."
Masipa noted that nothing could bring back Steenkamp, but expressed hopes that "this judgment on sentence shall provide some sort of closure for the family."
Steenkamp family lawyer Dup De Bruyn said that "justice was served," but said that he believed Pistorius will serve close to two years in prison.
Arnold Pistorius, the Olympian's uncle, said that his family accepts the judgment.
"Oscar will embrace the opportunity to pay back to society," he said, and appealed to the media to "accept the ruling of court and let us move forward in this process and give us some degree of dignity and privacy."
Pistorius rose to international fame at the 2012 London Olympic Games, where he competed using carbon-fibre prosthetics and reached the semifinals of the 400m race against athletes with natural limbs.