Over 250 Evangelical Pastors Urge Immigration Reform on Capitol Hill
Pastor Eugene Cho Talks About How Being an Immigrant Informs His Views on Immigration Reform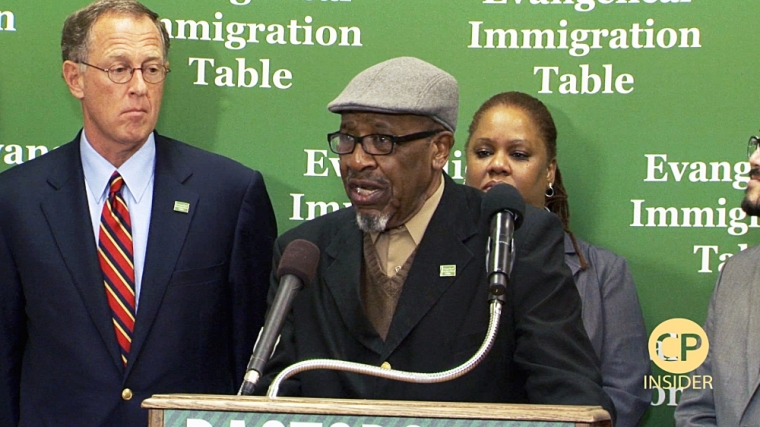 WASHINGTON — Over 250 Evangelical pastors traveled Tuesday from 25 different states to Washington, D.C., to urge members of Congress to pass immigration reform based upon a set of six principles this year.
Dr. John Perkins, a leader in Evangelicalism's racial reconciliation movement and co-founder of the Christian Community Development Association, recalled that Evangelicals were largely absent from the Civil Rights Movement but he felt honored to be among Evangelicals engaged on the immigration issue.
"Fifty years ago the African-American community longed to be heard, and unfortunately much of the evangelical community was not standing with us. However, I'm absolutely honored to be standing today with my brothers and sisters looking forward, recognizing that the urgency of the now is upon us. It is time for us to make a decision for immigration reform," he said.
The event followed 17 local press events in 13 states over 10 days with some of the same pastors. About 110 congressional offices heard from the pastors.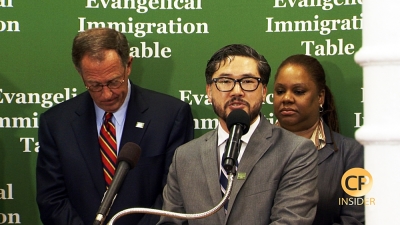 Paige Patterson, president of Southwestern Baptist Theological Seminary, Fort Worth, Texas, argued that his position on immigration is informed by his fear of God and his desire to reach out to others.
Patterson also emphasized that they are not advocating amnesty of unauthorized immigrants. "It is my desire to see the fear of God inform all of our actions. Consequently, I believe that fear of God informing our actions would cause us to reach out to many, many people in this country, from many different origins who are not known law-breakers, not workers of wickedness, but simply needing an opportunity and seizing the American opportunity," he said.
"Immigration reform offers the finest opportunity we in the United States have had to put politics aside and do the right thing, for the right reason, at the right time," he added. "For all the criticism heaped on the USA, we remain the most generous and kind country in the world. With no hint at amnesty, with determination to have a republic ruled by law, let us wrap our arms around all the well-meaning people who have sought the umbrella of America's protection and opportunity."
In an interview with The Christian Post (see video below), Pastor Eugene Cho of Quest Church in Seattle spoke about how his experience as an immigrant informs his views on immigration.
Cho's parents immigrated to the United States from North Korea when he was 6 years old. His parents were born in extreme poverty and "wanted a better opportunity" for their children, he explained.
"There is not a week that goes by where I am not reminded of being an immigrant," the 43-year-old pastor said. "It has impacted my lens as a follower of Jesus and as a pastor. I think it has made me, I pray, more compassionate, thinking about those who are on the margins."
His congregation is not "monolithic" on the issue of immigration, Cho explained, but their commitment to loving people and Scripture, and their commitment to compassion and justice helps to bring them together.