Pakistan Army Kills 77 Taliban Militants in Response to School Massacre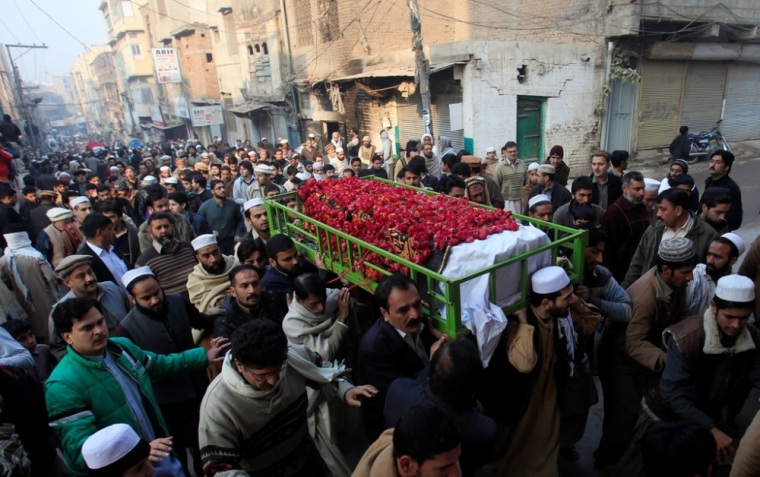 The Pakistani army killed close to 77 Taliban members in the northwestern tribal regions of the country, days after militants stormed an army school earlier this week in Peshawar and killed 148 people, most of them children.
The offensive was confirmed by Pakistani military chief Gen. Raheel Sharif, who revealed that on Thursday, airstrikes killed 17 militants targets in the Khyber tribal region, while ground troops killed 10 fighters. Another 32 militants died on Friday in an ambush in Tirah valley near the Afghan border, according to The Associated Press.
The Taliban and the Pakistan army have fought each other in the Khyber region in recent months, with militants using the area as a hiding spot, where it is difficult to track them down.
Following the attack on Tuesday at the Peshawar school that led to the massacre, the Pakistani Taliban said that the slaughter was revenge for the losses the group suffered in the tribal regions.
The school shooting was condemned throughout the world, including by the Afghani branch of the Taliban, who said that Islamic law prohibits the murder of children.
"The intentional killing of innocent people, children and women is against the basics of Islam and this criteria has to be considered by every Islamic party and government," spokesman Zabihullah Mujahid said earlier this week.
Militant voices inside Pakistan, such as splinter group Jamaat-ul-Ahrar, also said that the killings crossed the line.
"Like them, we condemn the attack on the school and killing of innocent children," spokesman Ehsanullah Ehsan said, in agreement with the Afghani branch.
There are various Taliban branches spread throughout the region, making it difficult to pinpoint a central leadership.
Prime Minister Nawaz Sharif said following the attack that he will be lifting a moratorium on the death penalty in terror cases. The Pakistan army then signed on Thursday the death warrants of six terrorists convicted and sentenced to death by military courts, though it is unclear when the men are scheduled to be executed.
The Pakistani army has said that it has killed more than 1,700 militants since June, BBC News reported. Army officials added that the offensive against the Taliban began after militants attacked the major airport at Karachi, leaving 38 people dead.
According to BBC statistics, as many as 50,000 Pakistanis in total may have been killed due to conflicts since 2001. Military and police members have also suffered heavily in the attacks, accounting for close to 10,000 of those deaths.