Pakistan Supreme Court Could Overturn Christian Mother Asia Bibi's Death Sentence Despite Radical Pressure, Says International Christian Concern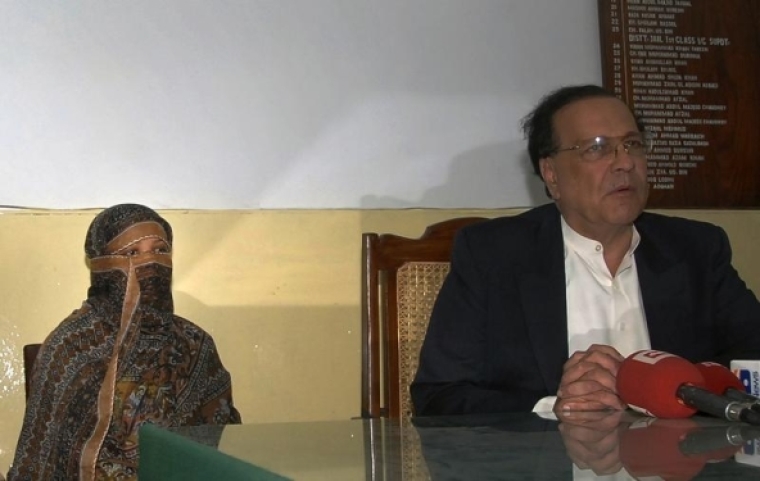 International Christian Concern has expressed hopes that Christian mother of five Asia Bibi could see her death sentence overturned by Pakistan's Supreme Court, despite pressure on judges from radical groups that are determined to see her executed.
"I think the chances of the Supreme Court overturning the death sentence are much greater than that of the High Court. In many cases, especially blasphemy cases, court decisions are influenced, either by ideology or threats, by local radical groups. Generally, the High Court is more insulated from this influence," William Stark, ICC's Regional Manager for South Asia, told The Christian Post in an email on Wednesday.
"Unfortunately, in Asia's case, she is very high profile and the radical groups tracking her case and advocating for her death have already shown what they are willing to do to keep Asia's death sentence confirmed. Shabaz Bhatti, a federal government minister, and Salmaan Taseer, the governor of Punjab, were murdered for speaking out against the blasphemy charge against Asia," Stark continued.
"I am just speculating, but I am sure that the Justices deciding Asia's case at the Lahore High Court were thinking about Bhatti and Taseer and their own personal safety when they made their decision to confirm the death sentence."
Bibi, who was first sentenced to death in 2010, saw her punishment upheld by the Lahore court last week. The mother was accused of blaspheming against Islam following an argument with Muslim women during an incident in 2009. Several human rights and persecution watchdog groups have pointed out, however, that blasphemy laws are often used to settle personal scores and persecute religious minorities in the heavily Islamic country.
Stark said that raising awareness is a very important step in affecting change in situations like Bibi's case.
"If Asia is a household name for Christians around the world and people are paying attention to her case, Pakistan and the justices ruling on her case will know that whatever decision they make will be seen and will be scrutinized. In some cases, just knowing that 'the world is watching' can affect the decisions of cases like this," Stark told CP.
"The blasphemy charge against Rimsha Masih in 2012 is a great example of this. After Rimsha, a young Christian girl, was accused of blasphemy in Pakistan, there was an international outcry that ultimately led to her being released and resettled in a safe country."
Christian leaders in Pakistan have been calling out for Pakistani authorities to reverse Bibi's sentence, while a group working to protect Christians from blasphemy laws urged international pressure on Pakistan.
Haroon Barkat, director of the Masihi Foundation, said earlier this week that "international pressures and mobilization can be useful" in influencing the case. He said that above all, "the political will of the government and of the highest authorities in Pakistan is needed" to put an end to the many false blasphemy cases in the country.
Stark agreed that it could help if the U.S. applies pressure on the situation, especially since Pakistan remains one of the U.S.'s top recipients of international aid.
"Having the U.S. government call on Pakistan to uphold international human rights standards as part of receiving aid shouldn't be that far-fetched," he said.
When asked about how Bibi's case compares to the one of Christian mother Meriam Ibrahim of Sudan from earlier this year, Stark said that in some ways the cases are similar, but also different.
"In both cases, these women are Christians and have been sentenced to death for crimes against Islam in countries that promote Islam as the state sponsored religion. Both women also come from countries where Christians are in the minority and are heavily persecuted. Obviously, both of these cases bring up religious freedom issues for minority populations living in the Muslim world," ICC's Regional Manager for South Asia said.
Ibrahim was initially facing the death penalty in Sudan for refusing to identify as a Muslim and for marrying her Christian husband Daniel Wani. Following a large international campaign, Sudan decided to release her, allowing her eventually to leave the country and come to the U.S., where Wani is a citizen.
Stark pointed out that Wani's American citizenship is a major difference between the cases, as it makes Ibrahim's two young children Americans as well.
"I believe this benefited Miriam greatly when it came to spurring NGOs, the U.S. government and U.S. citizens to action, ultimately leading to her release and resettlement in the U.S. That connection doesn't exist for Asia, making her easier to forget about and harder to push for action on," he said.
As Bibi's defense team prepares an appeal to the Supreme Court, other Christian groups are calling on people to offer prayers for the mother.
Open Doors noted that Bibi has spent much of the past five years in solitary confinement to protect her from other inmates, while the high-profile nature of the case has forced her family to go into hiding.
"Even her legal team face threats to their careers, families, and lives. Please pray for Asia, her family, her legal team, and the judge who will hear her appeal, and ask your church to do the same," the group said.
Open Doors added that it is contacting diplomats from around the world to raise awareness for Asia's case.