Paris Manhunt Continues as Authorities Arrest 7, Focus on Brothers With Radical Islamic Ties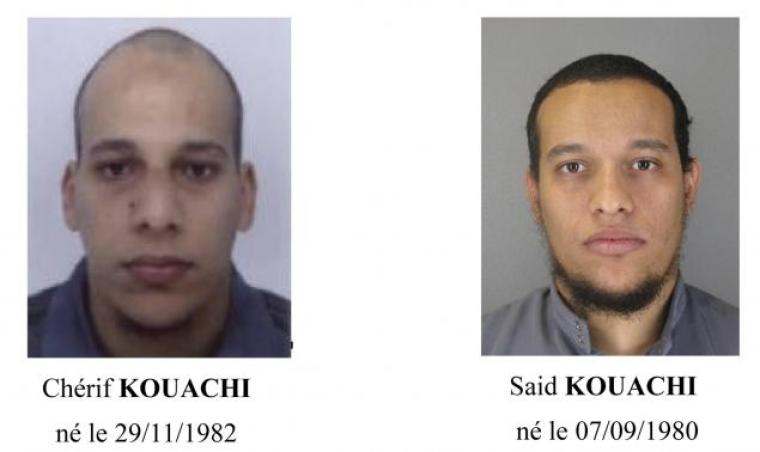 Seven people have been arrested in the aftermath of a massacre at the Charlie Hebdo weekly satirical newspaper headquarters in Paris, France, but two main suspects accused of killing 12 are still at large.
Cherif Kouachi and his brother Said Kouachi are believed to be the two men responsible for murdering 12 people yesterday in Paris. Cherif served 18 months in prison on charges of criminal association with a terrorist organization in 2005 and was part of an Islamist cell group enlisting French nationals to go to Iraq and fight Americans in the country.
The alleged driver of the getaway car in the attack turned himself in to police and is fully cooperating with authorities. Hamyd Mourad, 18, gave himself up and is helping authorities identify those associated with the murders. As a result, the Kouachi brothers have been located to be somewhere in northern France but the two are "armed and dangerous," with plenty of weapons, according to authorities.
Seven people associated with the Kouachi brothers have also been taken into custody and are being held. Authorities hope that they will be able to provide further information about the deadly attack.
Meanwhile, France's president, Francois Hollande, has called for a national day of mourning to remember the 12 victims.
"Nothing can divide us, nothing should separate us," Hollande said in a statement. "Freedom will always be stronger than barbarity. France has always known how to defeat its enemies when it has known how to defend its values. Let us be united and we shall triumph."
Police are also looking at the ties the Kouachi brothers have to radical Islamist groups given their past affiliations. The gunmen were heard yelling "Allahu Akbar" and "We have avenged the prophet" as they ran through the street to their getaway vehicle. Authorities are investigating to see if they are part of a larger Islamic cell in the city and how much of a risk they pose to the general public.