Partners in Crime, Weeping Jesse Jackson Jr. and Wife Sentenced to Prison for Misspending $750K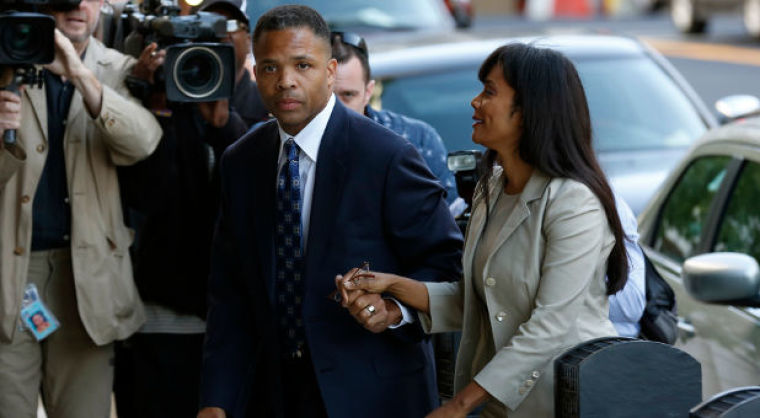 Former U.S. congressman Jesse Jackson Jr. and his wife Sandi both wept as they received separate prison sentences for felonies related to the misspending of some $750,000 in campaign funds on Wednesday.
The Chicago Tribune reported that Jesse Jackson Jr. was sentenced to 30 months in prison while his wife was sentenced to a year. They will be allowed to serve their sentences one at a time with Jackson Jr. opting to go first based on the wishes of the family.
Federal Judge Amy Berman Jackson noted that Jackson Jr.'s popular civil rights activist father had urged her in writing to place his son who has been diagnosed with bi-polar disorder under supervised care instead of prison, but she said she couldn't do it.
Doing that, she explained, would make it appear as if there were two systems of justice: "one for the well-connected and one for everybody else."
"I cannot do it," she noted. "And I will not do it."
Jackson Jr. wept and expressed regret as he apologized for his crimes.
"Your honor, throughout this process I've asked the government and the court to hold me and only me accountable for my actions," he said, while pausing to dry his eyes and blow his nose with tissue at times.
"I am the example for the whole Congress," he said. "I understand that. I didn't separate my personal life from my political activities, and I couldn't have been more wrong."
He also noted that he hoped that his wife, Sandi, could make enough money to support their family in his absence. The couple's 13 and nine-year-old children were not in court.
"When I get back, I'll take on that burden," said Jackson Jr. "By then I hope my children will be old enough that the pain I caused will be easier to bear."
A former Chicago alderman, Sandi Jackson, expressed anxiety as she read from a prepared speech. "I want to begin by apologizing first to my family, to my friends, my community and my constituents for the actions that brought me here today," she said.
"My heart breaks every day with the pain this has caused my babies," she said while weeping. "I ask to be a parent, provider and support system that my babies will require in the difficult months ahead."
Jesse Jackson Jr., 48, pleaded guilty to a felony conspiracy count involving the $750,000, while Sandi Jackson, 49, pleaded guilty to a related charge of failing to report about $600,000 in taxable income, according to the Tribune.
The Rev. Jesse Jackson Sr. spoke with the press before the hearing on Wednesday and reflected on his son's bipolar disorder.
"I don't know how I missed so many signs," he said. "We found out he was sick very late. We thought we almost lost him. He was in a different place altogether."
"He was very sick," said Rev. Jackson. "People speculating, 'Is he faking it?' No, he's not," he added.