Passion 2013 Tells 60,000 Students: You Don't Need an Event, You Need Jesus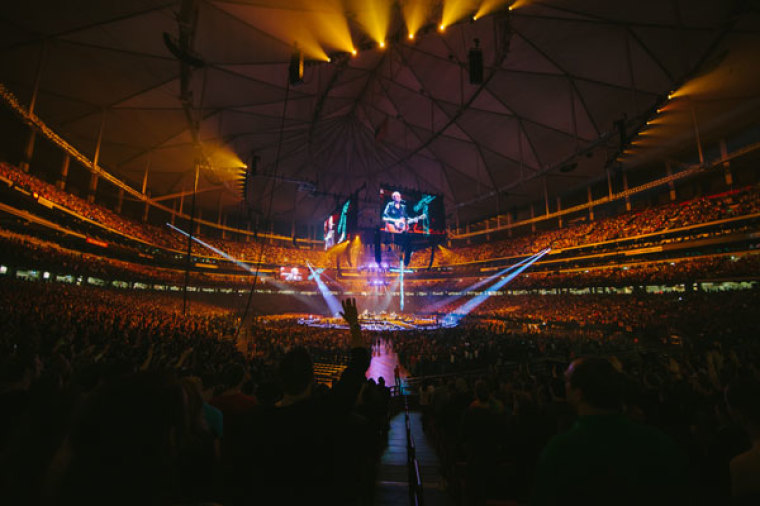 ATLANTA – A strong sense of anticipation, energy and purpose was evident all over downtown Atlanta Tuesday as over 60,000 students and ministry leaders from across the country and around the world descended on the Georgia Dome and Georgia World Congress Center for the Passion 2013 conference.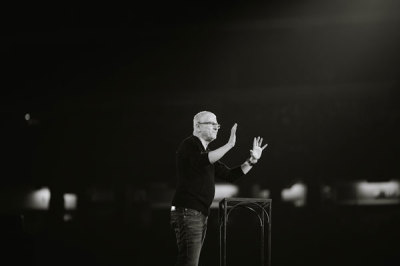 "Is this not incredible?" Passion founder and visionary architect Louie Giglio said as he surveyed the energized crowd. "It's no longer a dream, but reality. And I can tell you that you are much louder tonight than the crowd watching football here last night!"
Passion staff and volunteer teams had worked tirelessly to set up the Georgia Dome in a matter of hours following the Chick-fil-A Bowl football game which ended late Monday night.
University students from all 50 United States, 55 countries, and 2,200 college campuses are represented at this week's four-day conference, the largest single Passion gathering in North America in the 18-year history of the Passion movement.
"Back in 1996, we knew that God was on the move, that God had a heartbeat for 18-25 year olds, and especially for the 20 million college students, the vast majority of whom do not have a clue as to why they are on this planet," Giglio recalled. "We wanted Passion to be solely focused on the person and fame of Jesus Christ, and for young people to make the focus of their life's goal to make Jesus known in their generation."
He showed a video clip from a 1995 Christian gathering in Seoul, South Korea, where some 60,000 people had gathered for worship and teaching. "We saw what was happening and thought, 'God is building a global movement'" he said. "We had done some things that we thought were big, but God was saying to us, 'I want to do something in this generation that is beyond what you can ask or imagine.' And here we are, so many years later, and I'm looking at another crowd of 60,000 people."
Giglio repeatedly spoke about God's ability to accomplish "immeasurably above" one's highest expectations, a reference to Ephesians 3:20.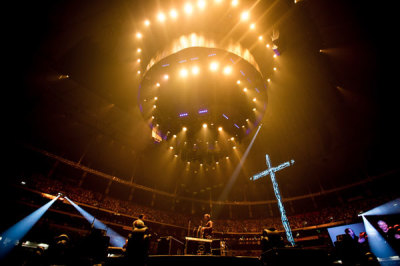 Citing Ezekiel 36-37 and Mark 9, Giglio demonstrated the consistency and continuity of God's faithfulness from one generation to another, and emphasized the hope each person has regardless of how difficult or dark their present circumstances may be. He focused on two responses from scripture – Ezekiel's reaction in the valley of dry bones: "Oh Sovereign LORD, you alone know the answer" (Ezekiel 37:3), and the father of the demon-possessed boy in need of healing: "Lord, I believe; help my unbelief!" (Mark 9:24). Giglio told the audience that God wants them to respond in the same way to the perplexing questions and complicated challenges they will encounter in life. "That is always a wise answer," he said.
"Everything we are doing is rooted in the Word of God, and we want to wrap ourselves around it. The wonderful living Word of God is more precious than anything else that we have," said Giglio. "We are praying that at the end of these days you will be astounded by God; that it will not be about Passion or anyone that has been at Passion, but that it will be about the Lord and the fact that He has done something in our lives that no one else can do."
A central theme of Giglio's message was God's providential intervention in the lives of individuals to revive and restore them. He shared the story of a student who was high on drugs before Passion 2012, but came to last year's conference and has been sober ever since. "When Jesus comes, the bound are going to go free," he said. "The testimony of these days in the Dome will be, 'I know that He is the Lord,' and 'I know He can do immeasurably more because He did it in my life,' and 'I don't need an event, I don't need a Dome, I need Jesus.'"
Giglio also introduced the 2013 Freedom cause to end slavery around the world. "The poor are going to be lifted because of what happens in here," he said. "We are going to fight for justice, to shine a light on modern day slavery. We are going to bring freedom to the 27 million men and women and children trapped in slavery in this city and in the cities around the world."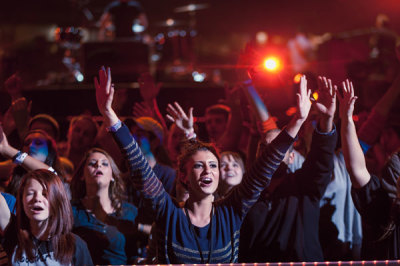 Students responded to the opening session amazed by the sheer magnitude of the gathering and eager for what lies ahead, with several people saying that they can't think of a better way to spend the first day of the new year. "This is my first time to attend a Passion conference, and I was struck by how all of the planning that was put into this turned into a powerful reality," said Julia Smith, 19, from Gaithersburg, Md., who is currently a sophomore at Liberty University in Lynchburg, Va. "The vision that Louie Giglio and the Passion founders had so long ago has really come to fruition. It has grown so much, and I'm grateful that now students like me can participate in this movement."
Christen Clark of Garner, N.C., was among the thousands of people watching the live-stream online. "It was incredible to hear Louie talk about the movement in South Korea and how God was impressing on him to believe this was possible for our country and our generation," she said. "I couldn't help but wonder if they were even able to imagine the magnitude, not just of filling the Georgia Dome but having the technology in place for millions worldwide to come together and hear the Word of God. How awesome! He is the God of 'immeasurably more!'"
The opening session started with Grammy-award winning recording artist Chris Tomlin leading the crowd in worship and introducing new songs which have been written specifically for this conference. Tomlin was joined by several other sixstepsrecords musicians including David Crowder and Kristian Stanfill, along with a 250-person volunteer choir.
The Passion 2013 conference continues through January 4 featuring messages from Francis Chan, John Piper, Beth Moore, and other dynamic speakers, and can be streamed online for free on the Passion website.