Pastor Confirms Donald Trump Gave $100K Donation for Louisiana Flood Relief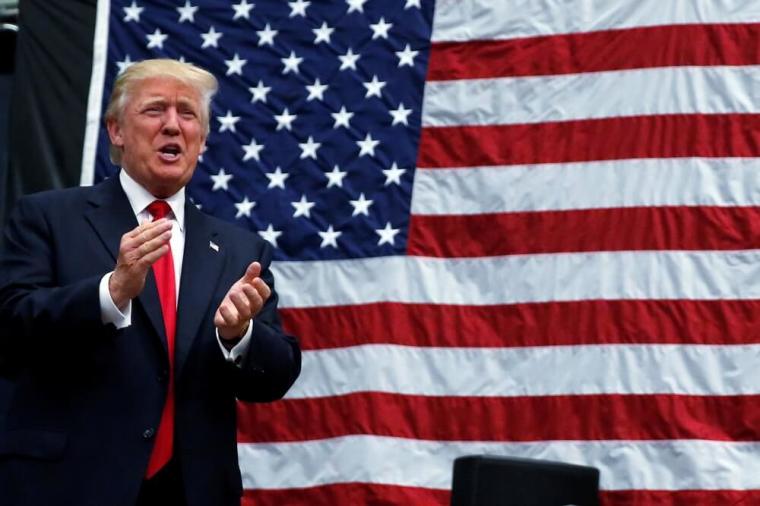 Update: Aug. 26, 8 p.m. ET: Tony Perkins announced Friday that Republican presidential nominee Donald Trump's $100,000 donation for relief efforts in Baton Rouge, Louisiana, was received by the Greenwell Springs Baptist Church, which is serving as a hub for distributing supplies and hot meals.
Perkins said: "All funds that are marked for disaster relief are being placed in an account separate from GSBC's general fund and will be used only for expenses related to GSBC's disaster related efforts and restoration. For example, these funds may be used to purchase relief-related supplies, material and services. The funds will not be used for normal church expenses, nor will the funds be used for cash grants to individuals. Any funds not used in this initial relief phase will be used for subsequent efforts to support and/or directly restore and rebuild homes and church facilities impacted by the flood."
Republican presidential nominee Donald Trump has donated $100,000 to a Southern Baptist church in Louisiana that is being pastored by social conservative activist Tony Perkins, and has been instrumental in providing relief for those affected by the torrential flooding.
"I've been told the church should receive the donation on Friday," Perkins, the president of the Washington-based Family Research Council, told The Christian Post in a statement on Wednesday. "I'm grateful Donald Trump visited Louisiana. He helped turn the attention of the nation to a devastated region that faces a very long road to recovery."
Trump and his vice presidential running mate, Indiana Gov. Mike Pence, traveled to the Bayou State to show their support for those whose homes have been damaged and lost due to the 26 inches of rainfall that swept through the state a week-and-a-half ago.
Last Friday, Trump and Pence visited Perkins' church, Greenwell Springs Baptist Church, at the same time that leading evangelist Franklin Graham was there.
Trump asked questions of Perkins, who is the interim pastor of the church, and other church members to help him assess the level of damage and devastation that has occurred in the area.
Perkins, who had to evacuate his family from their home on Aug. 13 via canoe, explained that about 80 percent of the homeowners who have been affected by the flooding did not have home insurance and now stand to lose the biggest financial investments they have made in their lives.
Although some of the church property sustained flooding, it has operated as somewhat of a hub for national charities and ministries, with organizations like Graham's Samaritan's Purse operating humanitarian volunteer campaigns out of the church. The church is also providing hot meals to make sure that no one goes hungry.
As first reported by CNN's Ashley Killough, Trump did more than just visit the church.
According to a tweet from Killough, the spokeswoman for Trump said the billionaire real estate mogul donated a truck full of supplies to the church and donated $100,000 to help the church with relief efforts.
Trump donated 0k to a La. church helping w/ flood relief effort, along w/ truck of supplies he helped unload Friday, per his spokeswoman

— Ashley Killough (@KilloughCNN) August 21, 2016
Perkins later confirmed in a post on the church's Facebook page that Trump did in fact make a donation to the church.
As the flooding has impacted over 60,000 homes, displaced tens of thousands of people and taken the lives of at least 13 individuals, Perkins also praised Trump for helping drive attention and national volunteer participation to the serious issues facing Louisiana in the wake of the flooding.
In addition to clean-up efforts, many homes that have not been destroyed will have to have the walls gutted in order to prevent more damage from being done.
"Since his visit, we have seen an increasing number of volunteers and vitally needed resources arrive from across the country," Perkins told CP.
As Samaritan's Purse continues to help provide volunteers, Perkins wrote on the church's Facebook page that it has received over 600 applications for assistance in removing debris and cleaning and gutting homes.
During the visit, Perkins told Trump that the involvement of the church and religious organizations like Samaritan's Purse and Convoy of Hope in helping rebuild the community highlights the importance of religious freedom in America.
"The big issue here, and why I am so grateful you came and stopped at our church, is that this is a part of religious freedom," Perkins told Trump during the visit. "[Its] about having institutions that are right there in the community that are first to respond. People didn't turn to Washington."
It was previously reported that a number of churches throughout the state are serving as Red Cross shelters to help those most impacted by the flooding.
Along with Trump's donation and volunteer efforts, Greenwell Springs Baptist Church is also accepting disaster relief donations online.