Pastor of Miami Church That Claims Woman Was 'Raised From Dead' Is Killed in Fiery Crash
Pastor of Miami Church That Claims Woman Was 'Raised From Dead' Is Killed in Fiery Crash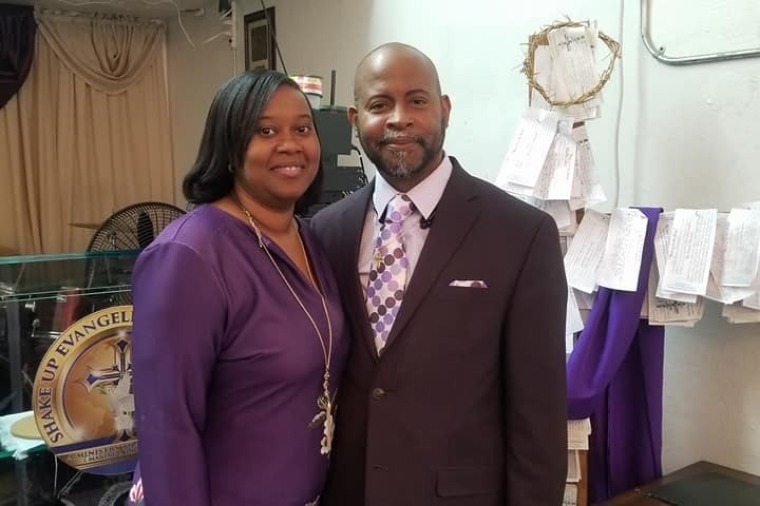 Bishop Darryl Coleman, the beloved pastor of Shake Up Evangelistic Ministries in Miami, Florida, where it was once claimed that a woman was "raised from the dead," perished after a fiery crash earlier this month shortly after ministering at a church in the Bahamas. He was 51.
Details from a GoFundMe campaign started by Caitlin Heitz said the pastor was being driven home after preaching at a church service on the island on April 14, when the driver of the vehicle he was in suddenly suffered a seizure.
"Our vacation in the Bahamas took a turn for the worse early Saturday morning (4/14). Our nanny Rennett and her husband, Darryl, were staying with us to look after our baby while we attended a wedding. Darryl was driving home from a church service when the driver of his car had a seizure on the bridge to Paradise Island," Heitz explained.
"The car went off a cliff and fell 10 feet onto concrete, instantly bursting into flames. The driver was killed immediately, and Darryl tragically passed away at Princess Margaret Hospital in Nassau," she added.
Coleman's wife told WSVN Wednesday that the accident has left everyone in "total disbelief."
"I'm still wishing this was a dream," she said.
Despite her grief, Rennett said she found solace in the memory that her husband's actions after his driver suffered the seizure helped save the lives of others who were in the vehicle with him.
"The car was about to go off the bridge and he got up and he started driving the car," Rennett told WSVN. "I know the first thing he thought of was to get up and save everyone to drive the car."
The pastor's quick action helped save the life of his assistant and parishioner, Marina Dozier.
"The driver just started having a seizure. Bishop Coleman said, 'He's having seizure.' The driver's side is on the right-hand side, so Bishop Coleman got up and sat on the console and grabbed the steering wheel," Dozier explained. "Bishop Coleman is still on the console steering the steering wheel and we made impact. And I audibly heard the Lord say, 'Put your head down.'"
Dozier, who was being treated at Broward Health Medical Center for a broken leg and stitches on her head, said she is grateful to be alive.
"God has given me another chance," she said.
She said they plan to build on Bishop Coleman's legacy at the church.
"Bishop Coleman used to do open air ministry services down in the Overtown area where we would take everything from the church, the sound system, have a full service outside. And we would feed and clothe the people of the community, and that is not going to stop," Dozier said. "He started a good work, so we're just going to carry on where he left off.
According to Shake Up Evangelistic Ministries, shortly after Bishop Coleman was born, a prophetess of God declared "this is no ordinary child ... this is a special child."
He went on to receive the baptism of the Holy Spirit at the age of 12 and was called to ministry at 18.
Shake Up Evangelistic Ministries is now described as an "anointed church that empowers saints for service, and introduces the unchurched to the saving knowledge of Jesus Christ. Many have been healed, delivered, and set free. One woman was even raised from the dead and God has performed many other miracles under this powerfully anointed ministry."
Along with his wife, Bishop Coleman leaves behind three children: Trinece, Darryl II, and Derian (KC), and his granddaughter, Aiyana Shamara Coleman.