Pastor Rick and Kay Warren 'Devastated But Not Destroyed' After Son's Suicide
Megachurch Pastor Takes Sabbatical From Saddleback Church While Grieving Matthew Warren
Pastor Rick Warren and his wife, Kay, appeared at the Lake Forest, Calif., megachurch they founded more than 30 years ago for the first time since the death of their youngest son, Matthew Warren, nearly two months ago and thanked the Saddleback Church community for their love and prayers.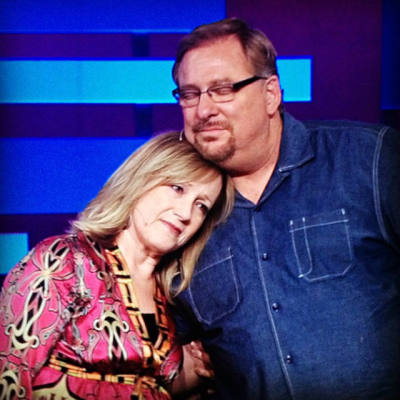 Appearing on stage arm in arm this past Saturday, May 25, the Warrens spoke for about 20 minutes, although a visibly emotional Kay Warren left the Saddleback stage in less than two minutes, a local news outlet reported.
"Honestly, it's been very hard coming back because I knew we would be overwhelmed. We said at Matthew's memorial service that we were devastated by the death of our son, but we're not destroyed by it," said Kay Warren, according to Lake Forest Patch editor Martin Henderson. "As much as I dreaded coming, because this is hard ... it's great to be here with the people who love us, and it is also great to stand and affirm, again, our faith."
Pastor Warren, left alone after his wife spoke briefly, told the Saddleback Church congregation that he missed and loved them and appreciated their well wishes.
The megachurch pastor and Purpose Driven Church author also revealed that he would be taking "two or three months to recharge," according to the Lake Forest Patch report. Warren's decision to take time off was confirmed by his media representative, who stated that he is "taking a sabbatical from all media requests and church responsibilities through at least August."
Warren assured the Saddleback Church community, however, that he has no intention of stepping away indefinitely. "I've been here 33 years and I'm going to be here a whole lot longer," he reportedly said, adding that he has been physically and mentally drained.
"... spiritually I've never been stronger," said Warren, according to the Lake Forest Patch. "I've never been closer to the Lord, never had more confidence in God, never been more comforted, never felt more love from God because I've spent a lot of time with Him in these days."
Longtime Saddleback Church member Lisa Merry was at the Lake Forest megachurch on Saturday during the Warrens' appearance, and told The Christian Post that she was both tearful and joyful to see the couple for the first time in nearly two months.
"It was really good to hear about their strength and faith in God, which is obviously even stronger than it was before," said Merry, a member of the congregation for 21 years.
"Instead of doubting, or those types of feelings, they shared about being stronger in God and overcoming the spiritual warfare with Satan. And like everything they do [at Saddleback], they are going to turn this into good as God uses it for good in their life and other people's lives. I love hearing that," she added.
The greater Christian community has also continued to stand by the Warrens and Saddleback Church in their time of grief, with many voicing fresh support amid the couple's appearance at church this weekend.
In response to Warren's Facebook page message: "Saturday night, for the first time since my youngest son died, Kay and I spoke briefly to our church family, thanking them for their love and prayers," supporters left a long list of comments that included:
"God is walking with you and Kay, Pastor Rick. My wife and I were in your shoes six years ago when we lost our son of 21 and God had His hands in all we went through and our Christian community were His hands and feet in many powerful ways. I have no words to ease your pain ( I wish I did!!) God does have what we all need and He will carry us through. Until that day I will continue to pray for you and your family." - Eddie Mouawad
"I know you both will be okay as God has got you! What an example of strength and love you have shown in this hard time for your family. God loves you and you are such a source of inspiration for many. You are called for His Purpose!" - Nwanne Onyeanwuli Makanjuola
"You are a shining light to all of us since this tragedy. We are blessed and encouraged by your example of how to cope with the love of Jesus sustaining you regardless of your reality — proving to all who see that Jesus is alive and ready to help. May many find the love of Jesus for the first time through your faith in Jesus — God always turns our scars into stars!" - Elaine Brook Costin
While the Warrens have been absent from church duties since the suicide of Matthew Warren on April 5, other prominent Christian ministers, such as Perry Noble, Wilfredo De Jesus and Francis Chan, have been featured speakers at the Southern California megachurch.
Matthew Warren was 27 years old when he took his own life with an unregistered gun illegally purchased over the Internet. He had "struggled from birth with mental illness, dark holes of depression, and even suicidal thoughts," according to an April letter from Pastor Warren revealing his son's death.
The Warrens, who have two other adult children, founded Saddleback Church in Lake Forest in 1980 with one other family. Today, the megachurch, a member of the Southern Baptist Convention, attracts an estimated 20,000 worshippers every weekend. Pastor Warren is well-known for his New York Times best-seller The Purpose Driven Life, which has sold tens of millions of copies worldwide since its 2002 publication.