Pastor Saeed Abedini Medical Condition Improving, but New Iranian President Can Offer Little Help
The family of imprisoned U.S. pastor Saeed Abedini was able to visit him in Evin Prison in Iran, revealing that he was in "good spirits" and that the most severe medical symptoms he had been suffering from have waned.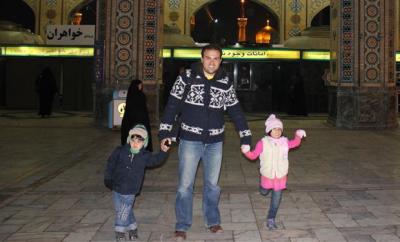 At the same time, the American Center for Law and Justice (ACLJ), which represents Abedini's wife and two children in the U.S., offered The Christian Post a perspective on Iranian president-elect Hassan Rouhani, explaining that his election victory last week is unlikely to change much for the U.S. pastor and other persecuted Christians in the Islamic country.
"President-elect Hassan Rohani brings to the Iranian presidency historical ties with the religious authorities in Iran," Tiffany N. Barrans, ACLJ's International Legal Director, shared with CP via email on Wednesday.
"Although one can hope that his promises of reform would include greater freedoms for the persecuted religious minorities in Iran, in reality, the man who controls the country and has set the harsh policy towards Christians remains unchanged – Supreme Leader Ayatollah Khamenei remains at the helm and he has set course for utter destruction of the Christian faith in Iran."
Barrans noted that Khamenei has made no indication that he is willing to change this course, and noted that leading up to the election, Christians in Iran, including those from Assyrian or Armenian descent, faced even greater persecution.
"This included additional arrests, sentences being handed down, church closures, greater interrogations and threats, and, as always, extensive monitoring of any religious gathering," the international legal director added.
Rouhani, a cleric described by western media as a moderate politician, secured a strong victory at the polls on Friday, and will now replace outgoing president Mahmoud Ahmadinejad. The White House congratulated Iranians on their new president on Saturday, urging Tehran to "heed the will of the Iranian people."
"Yesterday's election took place against the backdrop of a lack of transparency, censorship of the media, Internet, and text messages, and an intimidating security environment that limited freedom of expression and assembly," the statement read.
Other sources beside the ACLJ have also said that Rouhani's election is unlikely to bring much change for Christians in Iran.
"In your Western media, the candidates are divided into conservatives and reformers, as if there is a choice, but let me tell you this: there is no choice. All of the candidates are from Ayatollah Khamenei's team," an Iranian Christian believer was quoted by Open Doors ministry.
"The question is can Rouhani make a change?" the local man added. "At least he is an intellectual, who graduated in the United Kingdom and has called for less confrontational relations with the West. I guess we just have to see in order to know, according to Iranian standards, how moderate he is."
In the meantime, Abedini, who has suffered religious persecution in Iran and was sentenced to eight years supposedly for "endangering national security," is doing better in prison, the ACLJ said. While he has been recovering from the beatings and torment inflicted upon him behind bars, he still needs medical attention for severe pain in his abdomen, which the Iranian regime refuses to give him.
"Iran's willful denial of his basic medical care is a reflection of its inhuman treatment of prisoners of conscience," the ACLJ wrote.
A concerning development following the Iranian election, the law group added, is that guards have been threatening to move Abedini to a prison in a more remote area in Southern Iran, which would make it nearly impossible for the pastor's family to keep visiting him.
"While these are likely vain threats made in an attempt to break his spirit, they reiterate the daily difficulties that Pastor Saeed faces – not only the fact that he is imprisoned but the psychological torment he endures at the hands of his captors," the ACLJ added.
Here is a related video:
SPEAKING OUT FOR SAEED