Pediatrician Under Fire From Gay Advocates for Refusing to Care for Baby With Two Moms 'After Much Prayer'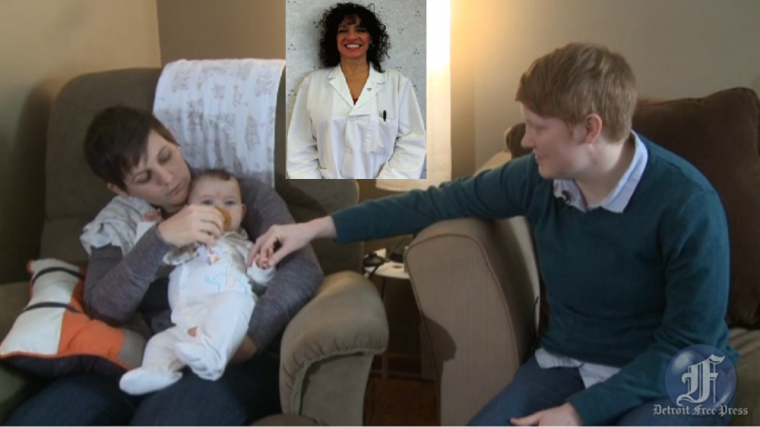 A lesbian couple in Michigan is now speaking out after a local pediatrician refused to care for their baby "after much prayer", as gay advocates argue that legal protections should exist in the state to prevent situations like this from happening.
The sapphic couple, Jamie and Krista Contreras, told the Detroit Free Press that after several interviews, they selected veteran pediatrician Vesna Roi, 49, who has been practicing pediatric medicine for 19 years, for her holistic approach to treating children.
As they waited to have their 6-day-old daughter, Bay, examined for the first time by their chosen doctor, a different pediatrician informed them that Roi experienced a change of heart "after much prayer" and was no longer able to treat the baby because they're a lesbian couple.
"I was completely dumbfounded," Krista Contreras, the baby's biological mother, told the Free Press. "We just looked at each other and said, 'Did we hear that correctly?' .... When we tell people about it, they don't believe us. They say, '(Doctors) can't do that. That's not legal.' And we say, 'Yes it is.'"
The women say they're now speaking out four months later to raise awareness that there's no federal or Michigan law that explicitly prohibits discrimination against LGBT individuals.
"It was embarrassing, it was humiliating and here we are, new parents trying to protect her," Jami said, according FoxDetroit.com. "And we know this happens in the world and we're completely prepared for this to happen other places. But not at our six-day-old's wellness appointment."
"As far as we know Bay doesn't have a sexual orientation yet so I'm not really sure what that matters," Jami said. "We're not your patient - she's your patient. And the fact is that your job is to keep babies healthy and you can't keep a baby healthy that has gay parents?"
While Roi was unable to speak about the case due to federal HIPAA law, she wrote in a letter to the lesbian couple dated Feb. 9 and published by the Free Press:
"Dear Jami & Krista, I am writing this letter of apology as I feel that it is important and necessary. I never meant to hurt either of you. After much prayer following your prenatal (visit), I felt that I would not be able to develop the personal patient doctor relationship that I normally do with my patients," she said.
She also apologized for not speaking to them in person and intimated that she respected their lifestyle choice.
"I felt that it was an exciting time for the two of you and I felt that if I came in and shared my decision, it would take away much of the excitement. That was my mistake," Roi said in the letter. "I should have spoken with you that day."
"Please know that I believe that God gives us free choice and I would never judge anyone based on what they do with that free choice. Again, I am very sorry for the hurt and angry feelings that were created by this. I hope that you can accept my apology," she added.
FOX 2 reported that the American Medical Association says that doctors cannot refuse treatment to patients due to sexual orientation but they do have the right to turn a patient away if the situation conflicts with their religious or moral beliefs.
According to Wayne State University Constitutional law professor Robert Sedler, Roi did not break any laws in refusing to treat baby Bay.
"There's no law that prohibits it," he told the Free Press about Roi's actions. "It's the same as a florist refusing to sell flowers for a same-sex wedding."
He also argued that she acted appropriately but said she might've acted unethically as a licensed doctor.
"Basically, the pediatrician handled this in an appropriate way," said Sedler. "She turned them over to another doctor."
"Here you have a doctor saying I won't treat a baby of a lesbian couple. … I think that's very troubling," he added. "It's clearly not illegal, but it certainly raises an ethical question."
Read Dr. Roi's complete letter of apology below: