Pennsylvania Pastor Indicted in Largest Known Computer Hacking and Securities Fraud Scheme That Yielded $30M in Illegal Profits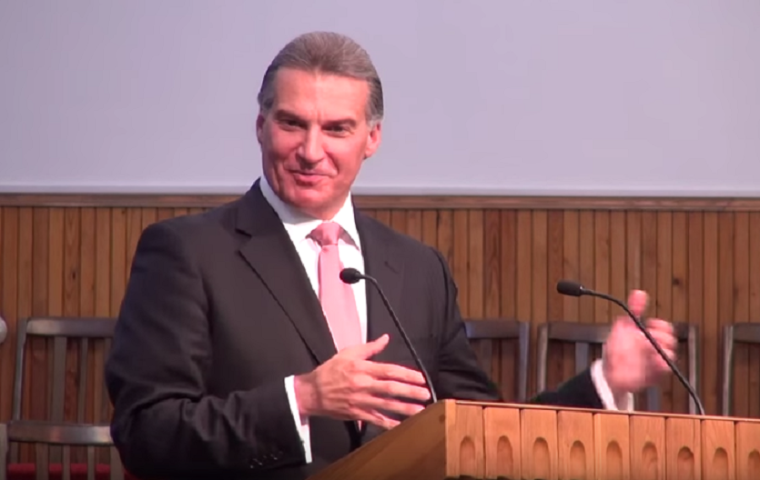 Vitaly Korchevsky, a 50-year-old pastor from Glen Mills, Pennsylvania, was among nine people charged in two indictments Tuesday for allegedly being involved in an international hacking and securities fraud scheme that used unpublished financial information on hundreds of publicly traded companies, stolen from the servers of three business newswires, to make trades that yielded some $30 million in illegal profits.
The indictments were unsealed in Brooklyn, New York, and Newark federal court and according to a release from the FBI, the scheme is the largest of its kind ever prosecuted.
"The defendants were a well-organized group that allegedly robbed the newswire companies and their clients and cheated the securities markets and the investing public by engaging in an unprecedented hacking and trading scheme," said U.S. Attorney Paul J. Fishman of the District of New Jersey. "The defendants launched a series of sophisticated and relentless cyber-attacks against three major newswire companies, stole highly confidential information and used to enrich themselves at the expense of public companies and their shareholders."
Korchevsky, the pastor of Slavic Evangelical Baptist Church in Brookhaven, Delaware County, who reportedly has a small but loyal congregation, was arrested at his home Tuesday and as news spread his congregation rallied behind him urging prayers.
A post from a support group for the pastor called Pray for Vitaly Korchevsky and Family, stated: "Today as many of you have already heard and read online, Vitaly Korchevsky was arrested on charges of allegedly being [involved in] an insider trading hack scandal. Allegedly meaning they have good cause to believe he is guilty, not necessarily making him guilty.
"Regardless of whether he is guilty or not, we need to remember that he is a brother in Christ. This my response to the Russian Christian community. So many have flooded Facebook with posts and reposts of the news, everyone wanting to be the first to get reactions to the news, and so many just putting Vitaly down. I rebuke every single one of those people and what they are doing. Let the first one without sin throw the first stone."
According to the indictments, between February 2010 and August of this year, two named computer hackers based in the Ukraine gained unauthorized access into the computer networks of Marketwired, PR Newswire Association and Business Wire through a series of sophisticated cyber attacks. The hackers acquired more than 150,000 press releases about upcoming announcements by hundreds of public companies such as Align Technology, Caterpillar, Hewlett Packard, Home Depot, Panera Bread Co. and Verisign.
The press releases had information concerning earnings, gross margins, revenues, and other confidential and material financial information.
Of the $30 million in profits resulting from the illegal trading, Korchevsky accounted for more than $17 million, according to the FBI. He was charged with wire fraud conspiracy, securities fraud conspiracy, securities fraud, and money laundering conspiracy.
"This is the story of a traditional securities fraud scheme with a twist — one that employed a contemporary approach to a conventional crime. In this case the defendants allegedly traded on nonpublic information, ultimately benefitting from more than $30 million in illegal profits over the course of three years," Assistant Director-in-Charge Rodriguez said.
"But just as criminals continue to develop relationships with one another in order to advance their objectives, the law enforcement community has developed a collaborative approach to fighting these types of crimes."
The wire fraud conspiracy count carries a maximum potential penalty of 20 years in prison and a $250,000 fine, or twice the gain or loss from the offense. The securities fraud conspiracy count carries a maximum potential penalty of five years in prison and a $250,000 fine, or twice the gain or loss from the offense. The substantive securities fraud counts carry a maximum potential penalty of 20 years in prison and a $5 million fine, or twice the gain or loss from the offense. The money laundering conspiracy count carries a maximum potential penalty of 20 years in prison and a $500,000 fine, or twice the value of the funds involved in the illegal transfers.
In an update from the support group for the pastor on Facebook Thursday, the pastor's wife has allegedly vouched for her husband's innocence.
"Good morning everyone. Last night we got a little update on the situation with Vitaly. ... His wife hasn't heard anything from him yet except for a note that was delivered, saying, 'everything will be OK.' In a very emotional speech, she told the church how much he loves them and he would never do anything like that," the post noted. "We will continue praying for the family."