Political Fallout After Google Pulls Membership From Conservative ALEC, Accuses Org of 'Lying' About Climate Change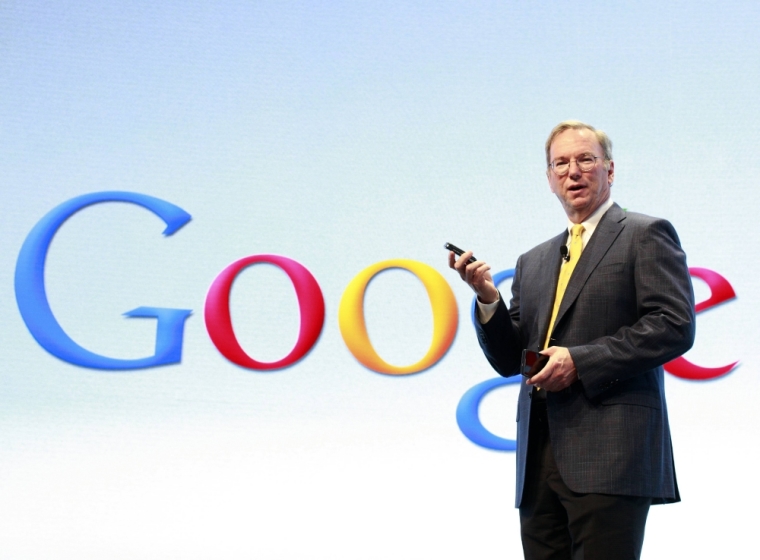 Executive chairman of Google Eric Schmidt reportedly created serious political fallout for a significant number of legislators Monday when he accused the prominent American Legislative Exchange Council of "literally lying" about climate change in explaining why the company is no longer a member of the organization.
On its website, ALEC says it "works to advance limited government, free markets and federalism at the state level through a nonpartisan public-private partnership of America's state legislators, members of the private sector and the general public."
In an interview with NPR Monday, Schmidt accused ALEC of "literally lying" about the existence of climate change.
"Well, the company has a very strong view that we should make decisions in politics based on facts. What a shock. And the facts of climate change are not in question anymore. Everyone understands climate change is occurring. And the people who oppose it are really hurting our children and our grandchildren and making the world a much worse place. And so we should not be aligned with such people. They're just literally lying," said Schmidt.
This accusation, according to ALEC representative Bill Meierling in an interview with The Christian Post Thursday, has since snowballed into a political nightmare for many legislators associated with ALEC, which includes about 25 percent of Congress.
"Google Chairman Eric Schmidt has been misconstrued in the vast majority of journalistic outlets in saying that ALEC members are liars. That's not what he said but that's what everyone is saying he said and it's creating real damage and irreparable harm for legislators around the country who themselves now are being called liars in attacks ads, and hate mail and you name it," said Meierling.
"I'm sure that Google didn't intend for it to happen, but that's what happened and there's a real challenge for legislators around the country as a result of what one executive said," he noted.
Meierling explained that Google, Yelp and Facebook have a lot more to lose from their decision to leave than ALEC does.
"ALEC represents 25 percent of all state legislators in the United States and about 25 percent of Congress are alumni of ALEC," said Meierling.
"The organization itself is about dialogue and discourse and exchange of ideas to create common ground and understanding; and it's very difficult for companies to participate in something or to share their perspective when they've turned their backs on a quarter of all legislators," he said.
Meierling said all ALEC lost from the departure of the companies was $30,000 in membership dues and the value of their time around the table.
"These companies were private sector members that served on a communications and technology task force," he said.
General membership dues for private sector members of ALEC is $7,000 annually. To sit on the communications and technology task force came at an additional cost of $3,000 annually.
Some 156 state legislators responded to Schmidt's accusations against ALEC in a letter to Google Wednesday, and chided the executive for maligning the organization.
"Many of us have worked side-by-side with Google at ALEC and in our states to ensure the continued growth and innovation of the technology sector and the American economy. It is a shame that you would harm this working relationship by falsely attacking ALEC, an organization of which we are proud," they noted.
"Schmidt also stated Google has a very strong view that decisions in politics should be based on facts. However, your calculated departure from ALEC is based on misinformation from climate activists who intentionally confuse free market policy perspectives for climate change denial," they argued in the letter.
Meierling explained that ALEC continues to have dialogue with Google in order to "establish a way forward" but noted that "the damage has already been done."
On Wednesday, The Washington Post reported that Facebook and Yelp were following Google in dumping their membership in ALEC.
"We reevaluate our memberships on an annual basis, and are in that process now," Facebook said in a statement according to the Post. "While we have tried to work within ALEC to bring that organization closer to our view on some key issues, it seems unlikely that we will make sufficient progress so we are not likely to renew our membership in 2015."
Environmentalists, union activists and other liberal groups that had been pushing Google to pull their support from ALEC like Microsoft did a few weeks ago, praised the company for their decision, according to the Chicago Tribune.
"We should not be electing climate deniers into office and we should not be supporting them in the marketplace," said Sierra Club Executive Director Michael Brune, according to the Tribune. "I think maybe the left hand was not aware of what the right hand was doing."
ALEC CEO Lisa B. Nelson argued in a statement Monday that being labeled a climate denier strayed very far from the truth about what the organization does.
"At our recent annual meeting in Dallas, we were pleased to host a roundtable conversation between a variety of companies — including Google — regarding renewable energy deployment and climate change," she said.
"In the case of energy generation, ALEC believes renewable energy should expand based on consumer demand, not as a result of a government mandate. Many misunderstand the American Legislative Exchange Council and its legislator-led, free market priorities. ALEC members believe the Federal Government exerts too much control on state and local decision-making," she continued.
"Google's renewable energy commitment — as well as those found throughout private industry — is completely consistent with ALEC policy because the companies in question chose renewables absent a mandate," she explained.
"ALEC believes in freedom of speech and opinion. Google is an important voice on these and many other issues, and we will miss their perspective in our discussions. However, ALEC and its members will continue to advance limited government, free markets and federalism through dialogue, debate and model policy formulation," Nelson ended.