Poll: 9 in 10 Evangelicals Say Bible Doesn't Influence Immigration Views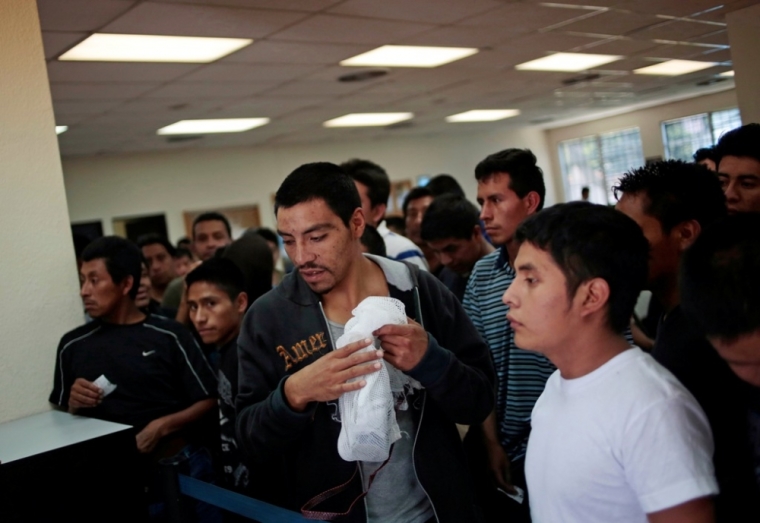 Nine out of 10 Evangelicals say that the Scripture has no impact on their views toward immigration reform, according to a poll released Wednesday. The poll similarly found that nearly seven in 10 Evangelicals have never been encouraged by their church to reach out to immigrants.
The Christian polling organization LifeWay Research surveyed 1,000 Evangelicals on their attitudes toward immigration reform for the Evangelical Immigration Table and World Relief. The poll found that 61 percent of Evangelicals favor immigration reform that will provide a path toward citizenship for undocumented immigrants. Meanwhile, 86 percent of Evangelicals said they favor greater border security and 88 percent said immigration reform should uphold "the rule of law."
Although the two-thirds of Evangelicals said they want Congress to act on immigration reform before the end of the year, only 12 percent said their views on immigration reform were influenced by biblical principles. Evangelicals' views on immigration reform are more likely to be influenced by relationships with immigrants (17 percent), friends and family (16 percent) and the media (16 percent), than the Bible.
"The sad part of this research on immigration is that American Evangelicals are more influenced by the media than by their Bibles and their churches combined," Leith Anderson, president of the National Association of Evangelicals, said in a press release. "We need to turn off our TVs and open up our Bibles."
The poll did, however, find that most Evangelicals are interested in learning what the Bible has to say about immigrants. Sixty-eight percent of Evangelicals say their churches and pastors have never preached about the importance of reaching out to immigrants. The same number, 68 percent, say they would "value" hearing sermons on the Bible's views on immigration.
"I was encouraged that almost seven in 10 Evangelicals wanted to hear a sermon on how Biblical principles apply to this issue. At the same time, I was discouraged that the survey also said that almost one in five hadn't heard anything from their churches or pastors," Kevin McBride, senior pastor at Raymond Baptist Church in Raymond, N.H., told reporters during a Wednesday press call announcing the poll's results.
"As Evangelicals, our final source of faith and practice is Scripture," McBride continued. "As pastors, we should be helping our churches in this area. The study sounds like I'm in the minority of pastors that have been addressing this issue. People in our churches want to know how Scripture applies to what they are seeing in the daily news and I am glad the Evangelical Immigration Table has developed tools for pastors to do this."
Although the survey indicates that the majority of churches are not speaking on immigration reform, 53 percent said they are already familiar with Bible's teachings on immigrants.
Ryan Perz, lead pastor at Cornerstone Baptist Church in Orange City, Iowa explained during the press call that he deals with undocumented illegal immigrants on a daily basis in his community and added that they are vital pieces of the local society and economy.
"Our mission as Evangelicals, we are centered around the good news of the gospel and bringing it to all people including the immigrant community. Because we believe in the eternal value of each person and that is why we also embrace and support immigration reform," Perz explained. "As part of being a neighbor to these people, I am concerned there. As a pastor and a follower of Christ, I want to be obedient to his command to love my neighbor as myself."
"LifeWay Research backs up a lot of what I have observed," Perz added. "And that is that most Evangelicals really want to address immigration reform."
Evelyn Chaparro, Spanish pastor at The River Church in Brandon, Fla. and president of Radio Genesis in Tampa Bay, said that providing a path toward citizenship for immigrants is vital in order to provide relief to the millions of unauthorized immigrants who live their life in constant fear.
"We need to speak for those who can't and we need to advocate for immigration reform that is consistent with biblical principles," Chaparro asserted. "It is very heart wrenching to see how the current laws are affecting so many lives. Families are separated and students are afraid to have dreams because there is no potential for their future. There is really fear and insecurity and that is what dominates the lives of these people that I serve on a daily basis as well as so many other millions of people."
The Feb. 17-27 online poll only used respondents who said they were evangelical, born-again or fundamentalist Christians. Quotas were used so the sample would be representative based upon gender, ethnicity, age, region and education. The margin of error was not reported.