Pope Francis on African Mission to Bridge Christian-Muslim Hostilities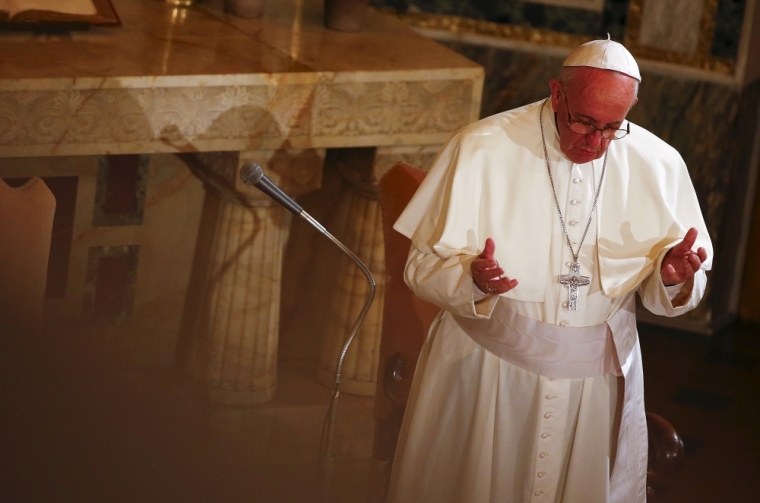 Pope Francis is set to begin his tour of several African countries on Wednesday, and will be visiting communities torn apart by Islamic militants and Muslim-Christian strife with a message that all people are one human family.
"We are living at a time when religious believers, and persons of goodwill everywhere are called to foster mutual understanding and respect, and to support each other as members of our one human family. For all of us are God's children," Francis said in his pre-trip message.
Reuters noted that Francis is scheduled to land in Nairobi, Kenya, later on Wednesday, and in the coming week will also visit Uganda and the Central African Republic.
Millions of Christians, not only Roman Catholics, are expected to turn out for the Vatican leader's celebration of mass, where Francis will reach out to suffering communities that have been hit hard by violence.
Nairobi suffered a major terror attack back in April, when Islamic gunmen killed close to 150 people, mostly Christian students, at Garissa University in Wanugu village. The gunmen reportedly singled out Christians specifically, and separated them from the Muslim students, before shooting them.
Sectarian violence has meanwhile gripped CAR for years, with numerous reported clashes between Christian and Muslim groups leaving dozens dead and hundreds injured.
As a whole, Catholics in Africa are growing in terms of numbers, and the Church had an estimated 200 million adherents in 2012 — though that number is expected to reach half a billion in 2050.
In his message specifically to people in Kenya and Uganda, Francis said: "My visit is meant to confirm the Catholic community in its worship of God and its witness to the Gospel, which teaches the dignity of every man and woman, and commands us to open our hearts to others, especially the poor and those in need."
The pontiff said that one of the highlights of his visit will be his meeting with young people, who he called the "greatest resource and our most promising hope for a future of solidarity, peace and progress."
"I know that many people are working hard to prepare for my visit, and I thank them. I ask everyone to pray that my stay in Kenya and Uganda will be a source of hope and encouragement to all," he added.
Kenya's inspector general of police, Joseph Boinnet, said that the country is ready to receive the pope.
"Security arrangements have been put in place, right from arrival," Boinnet assured, though did not disclose how many police would be deployed in the capital.
Kenyan presidential spokesman Manoah Esipisu said that Francis' visit will be important in the mission to reconcile religious and ethnic differences.
"Pope Francis' visit to Kenya will be focused on inclusivity and reconciliation in relation to ethnic and religious tolerance, peace and stability," Esipisu said.