'Powerhouse' Soul Singer Candice Glover Wins 'American Idol'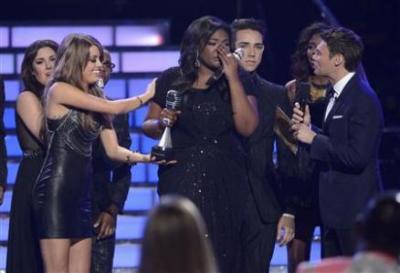 Candice Glover, a "powerhouse" soul-songstress likened to popular singer and actress Jennifer Hudson, was named the winner of the 12th season of Fox's "American Idol" singing competition on Thursday night.
It seems the third time proved the charm for the 23-year-old St. Helena Island, S.C., native who had previously tried and failed to reach the finals in auditions for the ninth and 11th seasons of the competition, according to one report.
She became the first female singer to win the competition since 2007.
"I always knew for some reason that it would happen if I kept going," noted Glover backstage after the competition.
But Glover had appeared stunned when show host Ryan Seacrest announced, "you are officially our American idol," before more than 7,000 cheering fans at the Nokia Theatre in Los Angeles.
"Oh, my God," she said in reaction. "Three years."
Looking back at her reaction, however, Glover told CBS that she didn't even remember the host calling her name.
"I don't remember him saying my name," said Glover. "I do remember confetti getting in my mouth." After the announcement she sobbed through the performance of her new single, "I Am Beautiful".
But on a night which featured Glover performing with the likes of former "Idol" finalist Jennifer Hudson, her win seemed inevitable.
"I look up to her and, honestly, she is so successful after this show, and I really admire her," said Glover, an excursions coordinator who rents scooters and golf carts back home. "I finally got a chance to not only meet her but sing with her."
"Idol" judge Randy Jackson, who also announced that he would be leaving the show, had called the top-two showdown between Kree Harrison and Glover on Wednesday a dead heat.
Harrison, who lives in Nashville, Tenn., was graceful in her loss.
"The title is freaking amazing, and I'm so proud of Candice, but for me, I'm so thankful I could even stand next to her on the finale," Harrison noted.
Jackson, who became noted on the show for his signature "yo, dawg," is the last of the original panel of judges to leave the show. He first appeared on the panel with Simon Cowell and Paula Abdul on the hit show's debut in 2002.
"I love everybody that walked on this show," Jackson said in the end. "Hopefully, I touched their lives a little bit. They certainly touched mine."