Priest Slaps Baby in Face for Crying Too Much During Baptism, Sparks Outrage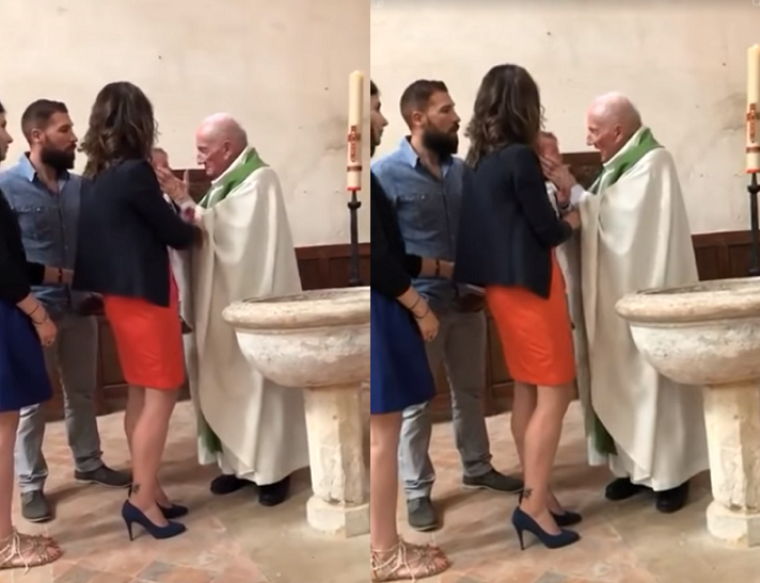 A video of a Catholic priest slapping a baby in the face because he wouldn't stop crying during a baptism ceremony is now sparking widespread outrage.
The incident, which was captured in a 43-second video clip and posted to YouTube on Wednesday, is said to have happened in France, according to a Reddit user.
In one translation of the conversation cited by Kidspot, the elderly priest is heard telling the crying baby in French: "It's a tantrum, this is called a tantrum. I will spill water on the forehead, hmm? And then, I'll kiss the lil' kid, because he'll have become a little Christian. Ohlalalala! (Expressing discontentment and kindness, basically a soft "come on!" directed at the kid). I will scream louder than you. So calm down. Calm down."
The priest was holding the baby's face while attempting to calm him down as a man and a woman who appear to be the child's parents looked on, unbothered at this point. At about the 23-second mark in the video the priest applies a sharp slap to the left side of the child's face and he begins wailing even harder as the man and the woman quickly try to wrest the baby from him.
The priest is told: "Sir, we don't hit him."
While another woman can be heard saying: "Isn't this forbidden?"
The determined priest kept holding onto the baby's face, saying: "Now you calm down. There. You will calm down. You will calm down. You will calm down. There." The man who appears to be the child's father is eventually able to wrestle the child away from the priest.
Many people who watched the now viral video have condemned the incident online charging that they would not have been able to remain as composed as the other adults in the video when the priest slapped the child.
"Omg!! Why did they let him touch that baby so long? I would have taken him away way before that slap occurred. A couple of times it looked like the priest was trying to suffocate him as well. Horrifying. It would have not been pretty if that was my child," Neily Ona tweeted.
"The parents should have removed their child from the grips of the priest immediately. Too many seconds passed from the slap to when they took back the baby. Report the priest, too," added Gary Veneziano.
Another Twitter user explained however that the parents appeared to have suffered a "delayed reaction" from the shock of the slap.
"I would have had delayed reaction in my 20s. The years of programming in the church makes you doubt what you're seeing. I just realized delayed responses by woman in terms of reporting assault etc. Is likely also due to programming- know better- do better," the user wrote.